Details

Published on Friday, 11 April 2008 11:14
Welcome to the adventures of Larry and Connie Farquhar. We semi-retired in our mid 40's and started traveling full-time in our motor home in September 2004. We love to travel and explore, which is evident in the following pages. Grab a cup of coffee and take a look around. We've found a ton of useful information on the Internet, and hope we're able to provide some back in return. We hope you find something useful here and come back to visit soon. We try to update the web site as often as possible. Thanks for stopping by!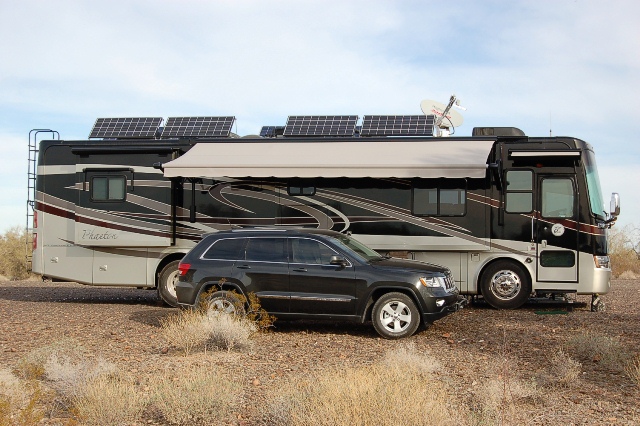 These pages are filled with information on our Jeep and motor home and the modifications we've made, our lifestyle of living, working and traveling full time in our motor home, photographs, and much more.
Details

Published on Sunday, 13 April 2008 12:42
When plans to start our RV fulltiming lifestyle in the summer of 2004 started looking more solid, we started a journal to record our "Countdown to the RV Fulltiming Lifestyle". Here, you can read about our preparations for the year prior to moving into the motorhome. This journal records various events starting 12 months before we "hit the road". The oldest entries are at the bottom.
Details

Published on Friday, 11 April 2008 17:20
Larry grew up with various types of camping and Recreational Vehicles (RV's). His parents owned Volkswagen campers for many years, and bought a Class C motorhome in 1973. During the years after we got married, we did the routine of tent camping, moving up to a tent-trailer, then a trailer (or caravan, as it's called in Germany), then later moved up to a Class C motorhome. Around 1990, we sold the Class C Tioga motorhome, and started back with tent camping. We moved up again to a tent-trailer in 1998. While on vacation in Yellowstone, we met a couple living and traveling in their large Class A motorhome. We had never even thought of this idea, but the idea was planted. What an ideal lifestyle! Slowly traveling around North America and seeing as much of this wonderful world as we can, while we can. Of course, the Jeep will be towed along and we'll be having new adventures everywhere we go. Ahhh... to us, this would be living the perfect life. With that seed planted, Larry started researching as much as he could. After reading numerous books, attending many seminars, meeting and talking with many fulltimers, joining the Escapees RV Club, attending RV rallies, and spending a week at the "Life on Wheels" university, we knew this was a lifestyle we wanted to try. We planned to make this lifestyle change for over 6 years and finally made the leap in September 2004.
Photos
Random Image