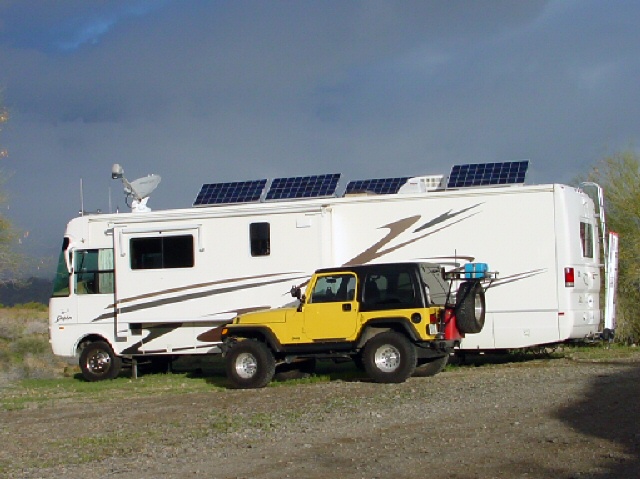 Larry grew up with various types of camping and Recreational Vehicles (RV's). His parents owned Volkswagen campers for many years, and bought a Class C motorhome in 1973. During the years after we got married, we did the routine of tent camping, moving up to a tent-trailer, then a trailer (or caravan, as it's called in Germany), then later moved up to a Class C motorhome. Around 1990, we sold the Class C Tioga motorhome, and started back with tent camping. We moved up again to a tent-trailer in 1998. While on vacation in Yellowstone, we met a couple living and traveling in their large Class A motorhome. We had never even thought of this idea, but the idea was planted. What an ideal lifestyle! Slowly traveling around North America and seeing as much of this wonderful world as we can, while we can. Of course, the Jeep will be towed along and we'll be having new adventures everywhere we go. Ahhh... to us, this would be living the perfect life. With that seed planted, Larry started researching as much as he could. After reading numerous books, attending many seminars, meeting and talking with many fulltimers, joining the Escapees RV Club, attending RV rallies, and spending a week at the "Life on Wheels" university, we knew this was a lifestyle we wanted to try. We planned to make this lifestyle change for over 6 years and finally made the leap in September 2004.
We took our first giant leap towards this goal in February 2002 with the purchase of a 36' 2002 Dolphin Class A motorhome, made by National RV. Since the Jeep has the nickname of "Wyle E", it's only appropriate to nickname the motorhome "Roadrunner". You'll see Wyle E always chasing after the Roadrunner.

Although Larry wanted a 'diesel pusher' (what male RV'er doesn't?), we decided to not wait any longer to get started and prepared for our fulltime RV lifestyle. However, we skipped the rest of the steps and moved directly from the tent-trailer to the Class A motorhome. She has all the comfort and features we need to live in, if we're not able to obtain the 'diesel pusher' later. Our Dolphin motorhome is an apartment on wheels with two 19" televisions, a convection oven/microwave, stove, double kitchen sinks, toilet, shower with hot water, side-by-side refrigerator and freezer, a 5.5kw generator, and even an ice-maker. When we take her out - it's not camping, it's living in our mobile house. We can live on the beach in Mexico one week, have a lakeside cabin the next, and move to the pine topped mountains later.
After retiring from the U.S. Air Force in 1997, we had a comfortable lifestyle. Our combined salaries enabled us to purchase a beautiful, large home with new furnishings, new cars, and many other toys. No longer were we having to live "paycheck to paycheck". But we weren't real happy. Life was beginning to become very routine. We started to dread going into the office each morning and attempt to tolerate the corporate and office politics. We began to feel we were living just to work so we could pay the bills. Larry especially felt there had to be more to life. Maybe since we're both in our mid-40's, it is a mid-life crisis. But we knew our lifestyle HAD to change.
A goal of going fulltime in 2005 was set in Jell-O. In year 2004, our daughters would graduate from High School and from College. Sometime during the following year, they would probably move out, and we would hit the road by mid 2005. But two things changed during 2003 that allowed us to start our RV full-timing lifestyle earlier than planned. The biggest life change came in August 2003 when Larry was laid-off from his job of 6 years. This high-tech startup company had struggled for 7 years without making a profit. They finally had to shut down for lack of additional funds. Additionally, Leslie, our oldest daughter became engaged to be married in April 2004. Cynthia, the youngest was also expressing a deep desire to become independent after her High School graduation in June 2004. So it appeared we would be empty nesters the summer of 2004.
Leslie had a wonderful wedding as planned, and Cindy initially moved in with her sister and later into her own apartment. We sold the house, the extra car, and much of the furniture. We gave both girls the rest of the furniture and household items, and donated most of our clothing to charity. When the house closed in early September 2004, we moved into our new home, the motorhome. At ages 46 and 43, we started traveling full-time in our "Wheel Estate".