Welcome to the adventures of Larry and Connie Farquhar. We semi-retired in our mid 40's and started traveling full-time in our motor home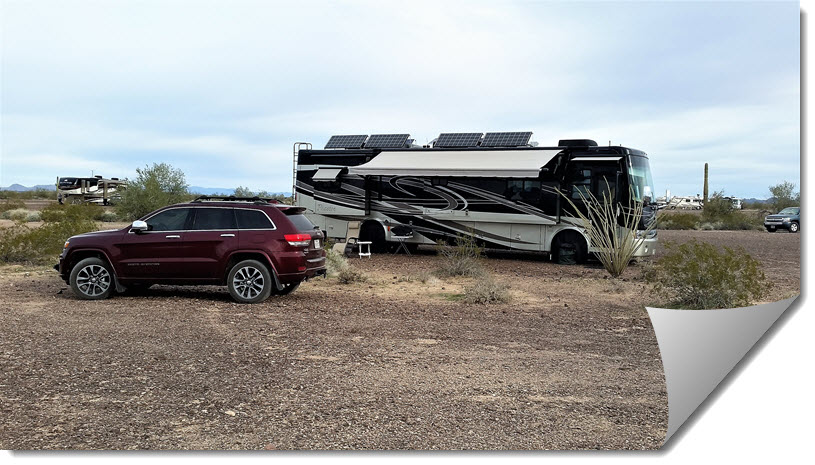 in September 2004. We love to travel and explore, which is evident in the following pages. Grab a cup of coffee and take a look around. We've found a ton of useful information on the Internet, and hope we're able to provide some back in return. We hope you find something useful here and come back to visit soon.
This website was created in 2002 and was fairly active until 2009. But the popularity of Facebook almost killed this website. Many of the articles here are older and were written for our first motohome, but the articles are still valid. In 2010, we purchased our 40' Tiffin Phaeton motorhome and have a few articles related to improving this home. In 2014, the website was revitalized. Primarily, since we'll be making a long desired trip to Alaska in 2015. We plan to keep a "blog" on our travels, photos and other information. Okay - that lasted a year before the Blog went dead again. But we're starting to travel again in 2019, so I'll REALLY try to keep this Blog active (again).
These pages are filled with information on our previous Jeep and motorhome and the modifications we've made, our lifestyle of living, working and traveling full time in our motorhome, photographs, and much more.
BLOG - this is a new area of the website where we'll start posting our travel logs and other info. Check it out.
ARTICLES - this section of the website has various "articles" on a variety of topics.
PHOTO GALLERY - hundreds of photos from our travels around the world, and of major family events.
We try to update the web site as often as possible. Thanks for stopping by!