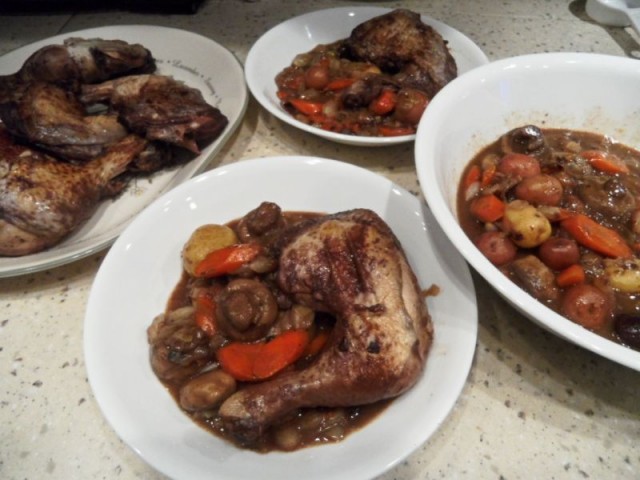 For those who don't speak French (neither do we), this is titled "French Cooking While Isolating".
---
---
My thought was to challenge my cooking abilities every Sunday with a yummy dinner. I managed a few weeks worth since I last posted. I still haven't made the bagels yet. We're still working on eating the other bread goodies I made.
I had some leftover puff pastry from Easter in the freezer and I had a sirloin steak. I set my mind to Beef Wellington. After searching through Pinterest I soon realized that a proper Beef Wellington uses Beef Tenderloin and pâté. Oh well, who needs proper! Normally I like to link to a recipe I used, but I looked through several different ones.
One recipe had the steak wrapped in Proccuito, hmm... I have bacon. Another one had suggestions for steak seasoning, I have some new Penzeys seasoning a can try. Another showed how to wrap the puff pastry around everything and the baking time. After reading several comments, I knew I would have to be careful not to over cook the steak. In fact my sirloin was still slightly frozen when I seared it. I then put it back into the refrigerator until I was ready with the mushrooms. I assembled the bacon, mushrooms, and steak together in plastic wrap, and put it back into the fridge for about 10 minutes. Once I had the puff pastry ready, I placed the steak pack on the pastry, egg washed for the folds, flipped over, scored the top, egg wash and baked. Served with garlic mashed potatoes and veggies. Not only was it beautiful, it tasted fantastic (if I do say so myself).
Larry and I had been craving a good Chinese dinner, challenge accepted. I used one huge chicken breast and made Sweet & Sour Chicken, Chicken Stir-fry, Fried Rice, Miso Soup (packaged) and Egg Rolls (packaged). I've used this website several times, with good results for my
stir-fries
. I even broke out my tea set and served green tea. The only thing missing were the fortune cookies.
This meal took over 2½ hours to prepare and only 15 minutes to consume.
Next up was another chicken dish, Coq au vin. Another recipe that requires some time with an overnight marinate. This was a very easy Chicken Stew, though leave it to me to make things more difficult. Trying to save some dish washing for me. I thought instead of me dirtying up a skillet to brown the meat in then to transfer it to a large baking dish, I thought my electric skillet would be good. Which it was, until it started overflowing. I stuck a couple of cookie sheets underneath it quickly, so I didn't have too much of a mess to clean up. The stew turned out fantastic. I had some multi-colored new potatoes that I threw in, which made this a perfect one pot meal. Served with my Sourdough Croissants, a salad, and the rest of the bottle of wine (Beaujolais-Villages Louis Jadot) that I had marinated the chicken in, it was an Ooo Laa Laa proper Rustic French cuisine meal.
I realize looking at my pictures how boring they look. I think I'll start working on my presentation table.

I still plan on making the bagels, I just bought the Everything Bagel spice today. I also want to try my hand at homemade Ravioli. I was wanting to make the Ravioli last Sunday but we had spaghetti last Thursday and a frozen Seafood Linguine one other night which is too much pasta in a week for me.
Hey guys I'm always up for suggestions from you too!