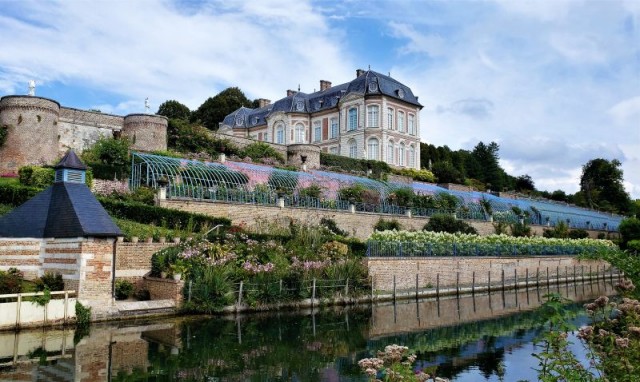 We originally planned for our month-long trip to Europe to happen in September and October of 2020. But the borders got closed due to COVID. Luckily, they opened the borders again in July 2021. Our timing to visit Europe for a month was around attending the Düsseldorf Caravan-Salon motorhome show. The show is held the last week of August into the beginning of September. With the borders opening up, we booked to attend the Caravan-Salon for August 30th - September 1st. We booked a flight to Paris, France for August 10th, returning on September 11th.
We flew into, and out of Paris instead of Germany, as the flight was less expensive. Besides, we wanted to visit France also. We also booked a motorhome for August 10th - September 11th. I'll have a separate article about our motorhome rental experience. During our 30 days in Europe:
We drove 4,200 kilometers, which is about 2,610 miles.
We visited and spent the night in 5 different countries (France, Germany, Poland, Belgium, and Netherlands).
Stayed overnight in one new country for us - Poland.
We stayed in 19 different locations.
Map Showing Where We Spent the Nights At
Breakdown of Our Expenses:
| | |
| --- | --- |
| Caravan Salon Tickets (2 people, 3 days) | $ 110.84 |
| Caravan Salon Overnight Parking (4 nights) | $ 70.00 |
| Motorhome Rental (30 nights) | $ 5,854.24 |
| Transportation (includes taxi, Uber, Scooter rental, Toll roads) | $ 201.29 |
| Motorhome Fuel | $ 696.79 |
| Dining Out | $ 485.39 |
| Groceries (includes wine) | $ 443.99 |
| Accommodations (Campgrounds, Aires, Hotel) | $ 279.29 |
| Sightseeing | $ 201.58 |
| Shopping (Supplies, Laptop Power Supply, Gifts) | $ 349.78 |
| Drinks (Bottled water, Coffee) | $ 30.47 |
| Flight (2 people, round-trip) | $ 1850.88 |
| TOTAL: | $10,574.54 |
The total expenses came out to close to what we expected. While we watched what we spent, we weren't very frugal. If needed, we could have cut back and saved on most of these expenses. Expenses in Europe are slightly higher than what we're used to in the USA. Diesel was selling for an average of $ 6.75 (US) a gallon. We used campgrounds more than we expected. We also needed electric most nights to charge our computer, so we paid for electric most of the time. The motorhome rental was the highest expense and we probably could have saved some here. Although we would liked to have a lower expense total, we're happy with the final cost. The trip was enjoyable and worth it.