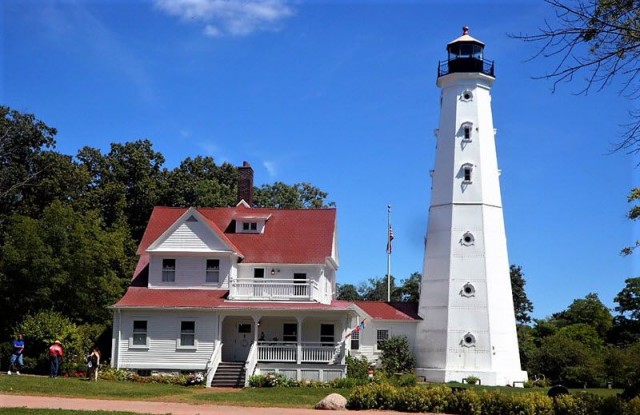 After leaving the Sugar Bottom Corps of Engineer Campground in Iowa, we headed north into Wisconsin. This is another state we've never spent the night in, so it gets marked off the "bucket list"! We're now down to only 5 US states left that we've never spent the night in together. Our fist destination in Wisconsin was the Pine View Recreation Area operated by the US Army at Fort McCoy, near Sparta, WI.
We arrived on a Sunday afternoon with a reservation. However, we had some problems getting into our site, as the previous occupants hadn't left yet. Check-out for them was over 2 hours ago. After waiting in the heat for an hour, they were still there. We insisted with the campground that they move us to a different site. They did, and we liked it better. During our stay here, we made a long day drive into Minneapolis, MN to see the "Mall of America", and this would be our only chance for a while. After the 3-hour drive (each direction), we arrived and walked around the mall. Yep, it's another shopping mall. Just bigger with more amusement rides in it.
From there, we headed to the Wisconsin Dells. Many of our friends had recommended we visit there. We stayed in a RV Park in nearby Baraboo at the Ho-Chunk Gaming WI Dells Casino. It was still pretty humid and we wanted air conditioning. Besides, they had a pool and hot tub we could use. While there, we walked around the downtown area of the The Dells. It was nice, but the whole area is a large tourist trap. LOTS of gift shops, cheese shops, and tourist stuff. The town has lots of water parks, shows and attractions. Not really our style, but it would be a fun area for a family vacation. We did stop in a couple of cheese shops and walked out with a nice supply of Wisconsin cheese. We also were intrigued by a tourist trap attraction that was an upside-down White House. It was simply known as "The Secret Experiment". So we wasted the $5 each to walk around inside a very dumb attraction.
Another day, we made the drive to Milwaukee. Connie wanted to visit their Public Market, which turned out to be a big disappointment (not much there). We also spent some time and toured "The Best Place" at the historic Pabst Brewery. This turned out to be pretty interesting. It was mainly a tour of the old Pabst Brewery offices and a history lesson (and a beer). We learned a good deal and enjoyed it. Later, we drove to the North Shore on Lake Michigan and admired a few landmarks there.

After a few days, we had to leave the WI Dells Casino, as they were full and didn't have space for us for one more night. We had reservations in another day at the Naval Training Center in Great Lakes, IL. So for the one night, we moved an hour away to Madison, WI to the Ho-Chunk Gaming Madison Casino. This is a casino that wasn't listed on our Casino Camper website, but they do allow RV's to stay overnight. We checked it out and added the listing to the web site. While they have a special area for RV's, it's right on a major highway and is extremely noisy. But it was free!
Soon after we pulled in and got setup, another RV pulled in directly next to us, blowing their horn. We wondered about this, as it was a large, empty parking lot. Our friends Bob and Joyce Childre decided to surprise us. And that they did! The plan was to meet them further up in Wisconsin in another 4 days. We had fun catching up with each other's lives, but then we took off the next day in different directions.

We had reservations at the Naval Training Center Great Lakes RV Park in North Chicago, IL. Bob and Joyce couldn't get reservations, so they headed to a COE park. We wanted to visit this Navy campground for a couple reasons. One, we had never been there before and wanted to check it out for the U.S. Military Campgrounds and RV Parks website, and two, Connie and I would be spending the night together in Illinois. Another state off the bucket list! Only 4 left!
This Navy campground was a disappointment. No sewer or water (at least we had electricity), sites real close together, and the campground was full of people living there. Not our favorite location. During our 3-day stay, we took the Jelly Belly "tour" that was nearby. To me, another big let-down. It was at a warehouse (not the factory) and was just a kiddie train ride in a circle, watching a few videos. Nothing like the real Jelly Belly factory tour in Fairfield, CA. At least we got a free bag of Jelly Belly candy. We had also planned to go into Chicago (probably by train), but decided against it. I'm sure there's plenty to see and do in Chicago, but we weren't in the mood to tackle another over-crowded city. We relaxed for the day with a nice lunch and movie instead.

Our next stop was the planned joining-up with Bob and Joyce at Potawatomi State Park at Sturgeon Bay, WI. We'll be traveling with Bob and Joyce for at least the next month. When we arrived, they were already there. The state park is nice, but the sites we reserved are mainly in a tent area. The roads are narrow with tight turns, overgrown with trees into the road and hanging low. Stupid me. I turned into the camping loop without checking it out and I quickly regretted it! I began wondering if I was going to be able to make it around the loop. I sure has Hell wasn't going to be able to back-out! With a couple of close-calls and Connie holding some trees out of my way, we got to our reserved site. Luckily, it was level and long enough for us. And even more luck, Bob and Joyce were there! All 3 of them held trees out of my way so I could back into the site without tearing up the motorhome. Safely in our site, we were ready to spend a week here. Oops! Bob tells me that he read that generators are not allowed. Both of our sites are in heavy shade, so solar isn't going to work. We had no choice and I've had to run my generator a couple hours each day. We were never told "no generators", there's no signs anywhere, and the rules don't say anything about no generators. However, we did read it in the park's newspaper that I happened to pick up at check in. So far, we've been here 3 days and have not had any complaints about using the generator. But I sure am nervous and conscientious about it. I'll be glad when we leave here in 4 days.

We've enjoyed our time here at Potawatomi State Park, WI. We've gone into the nearby town of Sturgeon Bay a couple times for lunch and site-seeing. Our big trip was to the tip of the peninsula, taking a ferry over to Washington Island. On the way there, a popular tourist novelty is to see the goats on the roof of Al Johnson's restaurant. On the island, we visited a lavender farm and saw them extracting the oil, visited the Stavkirke, and had lunch at an eclectic café called Fiddlers Green. On the return trip, it was interesting to see the problems the ferry was having getting a truck with a huge tank onto the ferry. They failed and gave up, at least while we waited for them. Finally, we had to stop at a roadside shop full of Cherry products on the way back home. It was a fun day.
The other night, Bob, Joyce, and Connie enjoyed a "Fish Boil" in town. Larry went with the traditional Fish and Chips. It was good, and we had another fun evening with friends. Lately, we've been staying around home working on the computer and avoiding the weekend crowds. We all leave here in a couple days and will move into Michigan. Connie's side note: Pegs and Jokers - Girls 8 - Guys 7