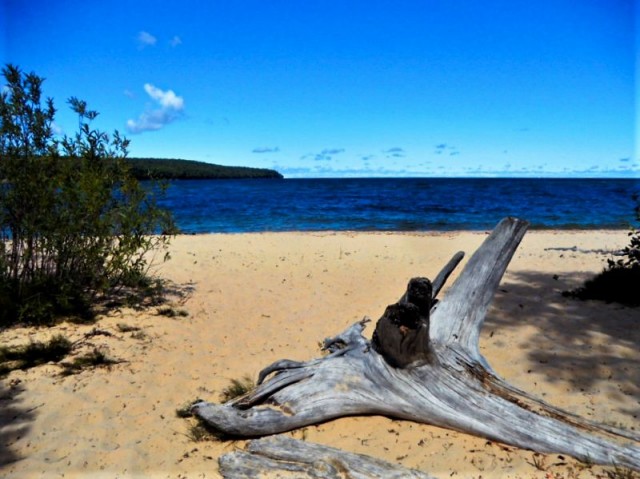 The day before we were scheduled to leave Potawatami State Park, we got "busted" for running the generator, We got through the busy weekend with a full campground with no issues. But on Tuesday, when the campground was almost empty the ranger stopped to "talk" to me about running the generator. He was nice and understanding, especially after I pointed out that there were no signs stating no generators and that it also wasn't posted in their rules. He disagreed, trying to show me in the rules where it was stated. Oops! He couldn't find it there either. He let me finish charging my batteries and we left early Wednesday morning.
It was a pretty drive along the north shore of Lake Michigan to get to Munising on the Upper Peninsula (U.P.) of Michigan. We stayed for a week at the Bay Furnace US Forest Service Campground located directly on Lake Superior. Luckily, our site was in the sun for half of the day. We were able to "mostly" stay charged by solar. More importantly, generators were allowed! The roads still had overgrown trees spreading into the road, but it wasn't too bad.

We kept busy in Munising playing tourists. One day was spent exploring various waterfalls in the area and an old Coast Guard Rescue Station at Sand Point. It was only a short walk to get to Wagner Falls and Munising Falls. The Coast Guard Station had a display of the rescue boat they used. Lake Superior has claimed the lives of hundreds of people in hundreds of shipwrecks, including the famous SS Edmund Fitzgerald. Another day found us taking a drive to the town of Marquette to their Farmer's Market and Harbor Festival. This was one of the top three Farmer's Markets we've ever visited. While there, we stumbled upon an old ore loading dock. Moving ore products was (and still is) one of the main freight types transported on the Great Lakes. Pretty interesting to see the ingenuity and how ore was loaded onto ships. We arrived a bit early in the day for the Harbor Festival, but did get to see the classic car show. They had the same model of car I owned from 1976 - 1978. I haven't seen a black 1976 Pontiac Trans Am in many years. This is the car I owned to "catch" Connie in 1977. Ahhh... the memories this car brought back.
Another short trip was to the town and beach of Grand Marias. Beautiful beaches on Lake Superior. The Pickle Barrel House was interesting. It was actually used as a beach cabin from 1926 - 1937.

Our biggest tourist adventure while staying in Munising was a sunset tour boat ride to the the National Pictured Rocks Lakeshore. It was an enjoyable trip with good narration. The sandstone rock cliffs were outstanding, especially with the low setting sunlight on them. Another day trip was to Palm Books State Park to view an alluring natural attraction - Kitch-iti-kipi. This small pond is two hundred feet across and 40-feet deep with a small rope-powered raft to take you to the middle. Kitch-iti-kipi is Michigan's largest freshwater spring. More than 10,000 gallons a minute gush from fissures in the underlying limestone at a constant 45 degrees Fahrenheit. The water is CRYSTAL CLEAR and you can see details on the bottom of the pond.

While Connie was reminding herself of the names of the places we had been this last week on Google Maps, she noticed there were supposed to be ruins here at the campground. Bay Furnace Campground was called this because of an old iron blast furnace that was located here on the bay. Unknown to us, there was a small trail with the stabilized ruins of the blast furnace where pig iron was made between 1870 and 1877. One of the last remaining structures of its kind in the Upper Peninsula. We were right next to it and didn't know it until the last minute. We learned more interesting history on this furnace and production of iron in the U.P.

After our week near Munising, we moved a few hours east to Sault Ste. Marie. Here, we're staying at the Aune-Osborn Campground, operated by the city. We're not too far from the Soo Locks located on the St. Mary's River. We can see and hear the large freighters passing by to enter the nearby locks. Unfortunately, upon arrival we discovered our residential refrigerator wasn't working! The freezer and fridge were above 45°F and getting warmer. Luckily, we had friends Bob and Joyce camped next to us and they gladly took much of the food to store for us. We also have a portable freezer we use. It took a lot of work, but we got the huge fridge out of it's space and phoned for a repair person. The next day, it was working again! It only had a bad relay, costing us $107 with labor. Whew! We feared that if the entire fridge needed to be replaced, how do you get it in and out of a motorhome? Remove the front windshield!
We've only been in Sault Ste. Marie a couple days, but we've already seen a bunch. We've gone to the Soo Locks and watched them in operation. 1000' freighters use these locks to get in and out of Lake Superior. These are BIG SHIPS! The visitors center at the locks was full of interesting information. Yesterday, we took a day trip to Whitefish Point. Along the scenic byway, we stopped at the Point Iroquois Light Station. This lighthouse tower was built in 1870. It's free admission to climb the tower and view the lightkeeper's house. Next stop on this day trip was to Whitefish Point. Here we visited the Shipwreck Museum, the Whitefish Point Light Station, the restored 1861 Lightkeeper's Quarters, and the 1923 Lifeboat Station Surfboat House.It was all very interesting. Hundreds of ships have sunk in the Whitefish Point area, including the famous SS Edmund Fitzgerald in 1975. To end the day, we stopped for a couple short hikes to view the Tahquamanon Falls.