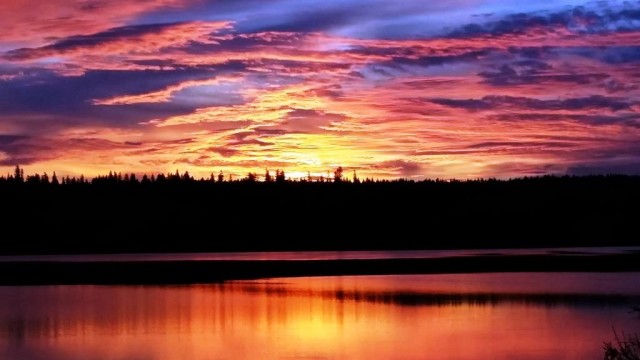 Tok Alaska was our last night staying in Alaska but it would not be our last visit to Alaska. SInce Larry was having problems with his leased server crashing every few days, he wanted to get back to the lower 48 to get this issue resolved. He needed fast, reliable Internet access. Our return trip through Canada was a little quicker than originally planned.
We crossed into Canada's Yukon Territory on August 17th driving on the Alaska Highway heading toward Destruction Bay. Bob & Joyce had warned us about this stretch of road. Heavily frost heaved dusty and construction did not make for a smooth ride nor having to deal with a couple of RV caravans. I was beat, and I wasn't even driving. I asked Larry if we could pull over for the night earlier than what we had planned. We came across a nice rest stop (Aug 18th - Free, 61.4772, -139.2941) and I tried to text Joyce to let them know what we were doing. On our way up through Canada, no communication between our rigs was difficult, so for our trip back through Canada, we both signed up with Verizion's Canada/Mexico add-on which allowed us 100 texts, 100 mins outgoing calls, and 100 megs data, for $15 a month. Well let's just say this plan didn't work as well as we hoped. There is a delay in the texting, so Bob & Joyce were not able to pull over in time. We saw them go by in the crowd of the caravan. We did catch up to them the next day in Whitehorse. After lunch and a little grocery shopping in Whitehorse, we continued south to Carcross, world's smallest desert, all 1 square mile of it. We saw a little bit of it as we drove by, it was too windy and no where to park. It's not like I've never seen desert before. We found the government campground in Carcross (Aug 19 & 20 - $10US, 60.174671, -134.701309). There were too many trees for the satellite so we set up and drove to the visitor center a mile away to check our email and to make sure the server hadn't crashed again. The next day we loaded into the Jeep and off we went to go back into Alaska and explore Skagway. The weather was not cooperating with our siteseeing, heavily cloud covered mountains and the road. I haven't been in thick fog in a long time so we didn't see a whole lot of the scenery the first part of the ride. By the time we were close to Skagway the clouds had lifted some and we were able to enjoy the views. Skagway is a cruise ship town and unfortunately there were 4 ships in port which made for a very crowded small town. We walked around town, popped into a shop or two, had lunch and then went to see where the Klondike goldrush town of Dyea used to be. This area was interesting, at it's height this town was 10,000 people strong. Now the only thing left to see is one false front of an office. This thick wooded area has a beautiful forest floor that is covered in a blanket of moss. It was so spongy to walk on and held some beautiful looking mushrooms (I have a new appreciation of mushrooms since our lecture in Denali). Our return trip was much more scenic and we enjoyed the many waterfalls, lakes, and lichen (a type of moss) covered rocks.
Our next day's drive took us just outside of Watson Lake where we turned south onto the Cassier Hwy (Hwy 37). This is a much smaller road but in pretty good condition. We pulled over in a suggested turnout for the night, but we were not able to get a satellite signal. Bob & Joyce pulled up behind us as we were putting down the dish and we agreed that we would continue on to spend the night at Jade City (Aug 21st - Free, 59.24903, -129.6522). This is an interesting area as the Cassier Mountains are the source of most of the jade in Canada. The store, called Jade City, had several boulders of jade all around and lots of jade souvenirs. They allowed overnight parking and offered free Wifi and coffee. Joyce told us there is a show on the Discovery Channel about Jade City, in fact while we were there they were doing a little filming, with a drone! Larry was very curious about it but didn't want to interupt, as soon as they were finished flying they were gone.
We arrived at our next planned destination, Meziadin Provincial Park. Staying here for the next couple of nights (Aug 22 & 23 - $10US, 56.087765, -129.305069) would allow us to drive the 30 miles back to our last trip into Alaska. Hyder Alaska is known for it's bear viewing platform at Fish Creek Wildlife Observation Site which is ran by the Tongass NF. While walking across the campground Bob Joyce & I spotted a grizzly meandering through, cool! After dinner we all decided to head out to find a fish ladder that I had read about and hopefully we would see more bears. After a few wrong turns we finally found it. There was a fish biologist who lives next to the ladder who came out and talked to us and told us he counts the fish as they swim by. When we asked about the bears he said the bridge next to our campground is a good area to see them. So off we went to the bridge. We stood looking for a few minutes when we notice the bushes started rustling and out came a black bear. He sniffed the riverbank a little then made an attempt to catch a salmon. I think he already had his fill and was just giving us a show, lol. We knew that bears usually feed early in the morning and late in the evening. Since none of us was up to an early morning drive to Hyder we opted for a later morning departure anticipating enjoying the scenery and perhaps some exploring during our drive. Well the weather again did not cooperate. While it wasn't as foggy as Skagway's drive the clouds still hung low on the mountains. We were still able to see Salmon Glacier and parts of some other glaciers, all in all a beautiful drive. We arrived at the platform around noon. We saw lots of salmon both live and dead and gulls enjoying their fill but alas no bears. We decided to go have lunch at a highly recommended restaurant called The Bus but unfortunately the owner was under the weather and so she was closed. Hyder is a very small town so our next option for lunch was to cross back into Canada and look for a restaurant in Stewart. We asked the border guard if he had any recommendations of which he did. We enjoyed our lunch and decided to give Hyder another try, still no bear. Again our drive home was a more scenic as the clouds had lifted more. We checked our bridge for bear, but no. Oh well I guess two bears is all we get for this area.
| | |
| --- | --- |
| | |
We enjoyed our travel day stopping at a couple of towns showcasing some very old and new totem poles and a couple of cool looking churches, but for some reason I cannot find those pictures anywhere, grrr electronics! We decided to spend the night (Aug 23 - Free, 54.222637, -125.762863) in Burns Lake at a municiple park that offers free camping. It was a nice quiet park, we were the only two rigs for several hours but as night fell (yes it has been getting dark by 9:00pm now) the campground filled up. However, Larry was able to fly his drone and take a video before everyone showed up. See this previous blog entry to watch the video.
Today would be a short travel day to Prince George and was Joyce's birthday! (Aug 24th - Free, 53.895039, -122.76487) The Treasure Cove casino is where we chose to stay the night. We arrived early enough to get some shopping in and to get our players card for the casino and lose our money. Joyce chose a nice casual steakhouse for her birthday dinner and this was our farewell dinner as well. Our adventure with Bob & Joyce Childre was at its end. After dinner we came back to our rig for one last round of Pegs & Jokers. The guys dominated in the wins the whole trip, 17 game lead to God knows how many games we played, lol. We also enjoyed a blueberry birthday pie I bought at one of the Farmer's Markets. A fun last night. In the morning we headed south to Williams Lake while the Childre's would spend one more night in Prince George exploring the area and then head east from there.
| | |
| --- | --- |
| | |
Williams Lake British Columbia is home to two RV Boomer couples we know, so we were excited to see them. Mickey and Karen live outside of Williams Lake at Dugan Lake of which there is a campground right next to them (Aug 25th & 26th - $6US, 52.168304, -121.924896). That evening Pat & Linda Jenkins and the Bennetts came over for happy hour and we made arrangements to meet for lunch the next day. We had a nice visit with them all and we look forward to seeing them again this winter in Arizona. I awoke early in the morning and was able to catch the most beautiful sunrise. It was such a glorious finish to our summer adventure as today we enter back into the United States. We entered at the same border crossing we left in, May 16 - August 27 our Alaska Adventure has ended.
Here's our final financial facts for our Alaska RV Adventure. Since crossing into Canada on May 16th to August 27th, We spent $2990 for diesel fuel, $487 for auto gas, $1725 for groceries (includes wine and beer), $1104 for dining out, $1195 for tours (etc.), and $939 for camping (all in US dollars). This trip cost us a total of $8,440, which is about $82.75 a day. We were gone on this trip for 102 days. The Canadian exchange rate and the lower fuel prices helped.The average price for diesel during this trip was $3.54 a gallon.