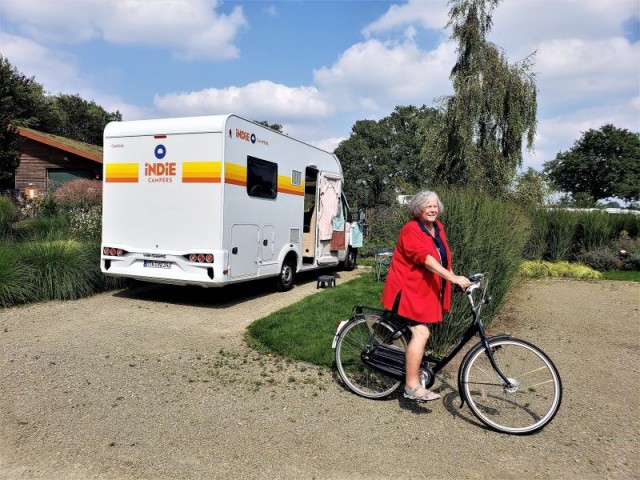 Next Saturday, we can't return the motorhome until 8:00AM and our flight leaves at 11:30AM. That only gives us 3 hours to return the rental (with inspection), get a taxi to the airport, check-in and go through security. I don't like taking chances with timing when flying. We've booked a hotel ($63 US) near the airport and near the rental return location for the night before our flight. We'll return the rental a day ahead of schedule, which will allow us not to be rushed on the day of our flight.
September 1st & 2nd, 2021
We got an early start leaving Düsseldorf. Our general direction was going to be the Normandy area of France, but we've been there before. We only have a week left before our return flight to the USA, so we decided to take it slow and enjoy more of the smaller towns along the way heading to Paris. The most direct route was through the Netherlands and Belgium.
We stopped at a beautiful and relaxing campground in the Netherlands. Campercamping Blij Venneke is in Duizel, Netherlands. For €23 a night ($27.60 US), we got the site with electric included. There was also a service point for drinking water and dumping. There were showers, but there was a line and Connie was told the hot water doesn't last long. She took a shower in the motorhome instead. WiFi was also included in the price, and it was fast! A small private campground with 25 pitches (sites). Lots of flowers, near a small pond, and usually very quiet (depending on the nearby airport flight path).
The owner, Arjan, stopped by and chatted for awhile. He loaned us his bicycle to explore the nearby area and forest behind the campground. A very nice gentleman. We greatly enjoyed our two-day visit here.
---
Connie's a happy camper! Her "vice" here has been the grocery stores. Although we can't read most of the labels, we generally have an idea what it is. If we're wrong, oh well - it's part of the adventure. She just returned from visiting the nearby "Carrefour Market". She came back with a large smile, and her arms full of goodies. She's in her happy place, especially when the cherry tart was 20% off, making it €3.44 ($4.13 US). She also brought me a surprise. A bottle of Captain Morgan Rum! (Don't ask how much)