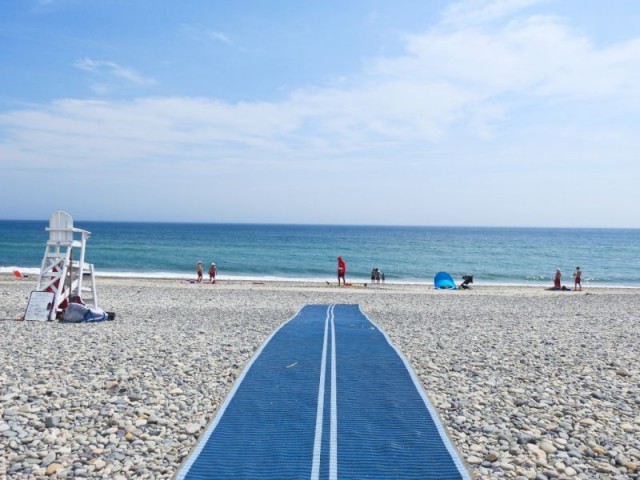 When leaving the Gifford Pinchot State Park in Pennsylvania, we had a small problem bringing in a slide-out. We discovered we had a stow-away family tucked up under the awning. Unfortunately, I'm now a home wrecker and baby murderer. One of the eggs broke while I was removing the nest.
A couple months ago, we wrote that since Cape Cod cancelled our reservations, we didn't know where we were going. RV'ing friends Wendy and Ken in Connecticut invited us to come stay with them. We took them up on their offer for a couple nights stay. We enjoyed seeing them again and were thankful for their hospitality. We even got a personalized tour of southeastern Connecticut. I also got a chance to fly the drone for some aerial photos of their house. Can you see our motorhome under their large front-yard tree?

From there, we made a short two-hour drive to Stow, Massachusetts to visit Connie's sister, Michelle. Our original plan was to park in their front yard for a couple weeks. However, since it was so hot and humid when we stopped in Connecticut, we decided to find a nearby campground. We got lucky and reserved a site in Littleton, Massachusetts for 12 days. Unsurprisingly, they were booked for the Independence Day weekend. We took what we could get on short notice.
The Boston Minuteman Campground is nice, heavily treed, and full on the weekends. It's more of a rustic style campground rather than an RV Park. But we fit in fine among the trees and got 30amp electric (all that was available). We could run one air-conditioner and keep the house cooler.
While here, we've been visiting Ken and Michelle, with their son's family, Joe, CC, Abigale, and William. They have a great house directly on a lake. It's been nice sitting on their deck overlooking the lake. We've had several great meals and fun evenings together. Of course, we've had plenty of seafood. With lobster (lobstah) less than $6 a pound, Connie plans to buy another 4 or 5 pounds to bring with us. (Note: 4 pounds of whole lobsters only yields a mere 14 ounces of picked meat!)

Ken and Michelle's dog is named "Larry", so I've had fun responding whenever they tell Larry (dog) to do something. We've also had much of our mail and packages sent to their house. A couple months ago, I wrote how friends Bob and Joyce had purchased an "Oculus Quest" virtual-reality headset. Connie really enjoyed playing with it and has wanted one of our own, but they've been sold-out, until recently. Guess what new "toy" we have? We had fun with everyone playing with it. So much fun, that Connie's sister now has one on order for her family!

Connie also spent a day with Michelle visiting the Tower Hill Botanic Garden. They had a wonderful time together. Connie doesn't get to see her siblings very often, but this past year has been great. She's been able to visit with her entire family a couple times. Usually, she may only get to see them every couple years or more.
Unfortunately, my dad is starting to have problems. He's almost 93 years old and it's finally caught up with him. Until now, he's been able to drive and live by himself. He recently moved in with my sister, Wendy and her husband Ken. Since Connie and I are semi-retired and don't have any obligations, we're returning to Arizona to take care of his estate. Currently, Arizona is a very hot-spot for the COVID-19 pandemic. We know we'll be safe, as we're going to a very low risk county and we've been following safe practices. We'll be spending most of our time isolated at his home.

We leave Massachusetts in a couple days. We've planned our rush trip back to Arizona to take 12 days, driving for 2 days then resting for a day. Most Corps of Engineer parks recently opened, so we made a few reservations for them on our route. We love COE parks. We get a nice RV site in a beautiful location with electricity (usually 50amp) for only $9 - $12 per night, using a senior discount. ALL government campgrounds should be like them!
Hope this finds you well and safe! This COVID-19 has really upset our (and everyone else's) plans!