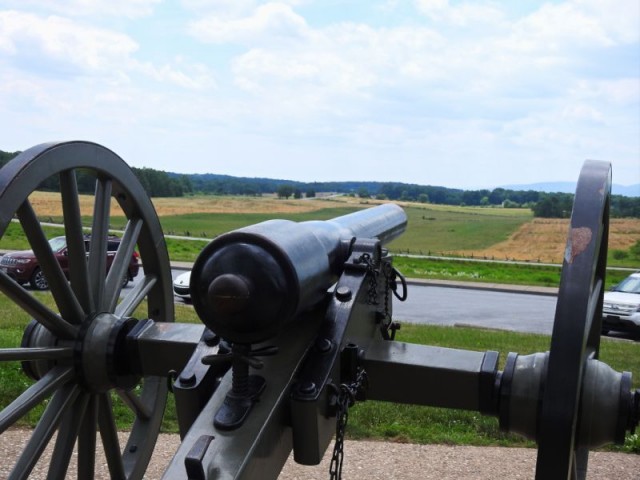 Before leaving
Ohiopyle State Park
in Pennsylvania, we made one last day trip out exploring. This turned out to be a fun filled day!
While enjoying a beautiful drive on the Pennsylvania country roads, we stumbled upon the "Kings Bridge", a 127-foot truss covered bridge. Originally built in 1806, it's been renovated about every 100 years since. Very nice and sturdy construction. Later in the day, we also came across the "Barronville Covered Bridge", built in 1830. This was an open-sided bridge. At 162 feet long, it's the longest remaining bridge in Somerset county. We later learned that there are 10 covered bridges in this county.
We then stopped at the "Flight 93 National Memorial". This is at the site of the downed United Airlines Flight 93 from the September 11, 2001 terrorist attacks. Because of the actions of the 40 passengers and crew aboard one of the planes, Flight 93, the attack on the U.S. Capitol was thwarted. Due the COVID-19 pandemic, the Visitor's Center was still closed. However, the grounds and trails were open. It was very emotional visit, feeling grateful for the heroics of the passengers of this doomed flight.
A new addition to the memorial was recently constructed, but not yet fully operational. The "Tower of Voices" is a 93-foot tower constructed on a nearby hill top that will contain 40 large wind chimes. Currently, the tower is built, but only contains 8 temporary chimes for testing. It was very windy during our visit, but the chimes didn't play very much. Hopefully, they'll get the chimes figured out.

After spending a couple weeks at Ohiopyle State park, it was time to move to our next destination. It was around a 4-hour drive to the Gifford Pinchot State Park, near Rossville Pennsylvania. We've been here for almost two weeks now. During these past couple of weeks, we've done the usual grocery shopping and laundry trips. We also had the chance to take a few day trips. We have a large, pretty site at Gifford Pinchot State Park with 30amp electricity. However, the sites are very close together here and people speed down the road. It gets full on the weekends. Our neighbors set their tents up 4 feet from our RV. A little too close for our comfort, but we have the weekdays almost to ourselves.

A couple of the recent day trips were "okay", but not much to talk about. We visited a Farmer's Market in an Amish/Mennonite community. it was interesting, but extremely hot and humid. Especially having to wear a face mask. Another trip was to the city of Lancaster, Pennsylvania. Here, most of the stores were closed. We did visit a country store and picked up some delicious home-made items. We didn't get any photos, but it was interesting to see Amish farmer's manually tending their fields with 6-horse teams.

Farquhar Park
" in the town of York, PA. We couldn't resist visiting a 120+ year old city park named after us. It was donated to Northwest York by industrialist A.B. Farquhar. It was the second city park in the town of York, PA. Nothing great there, but it was a nice drive and excuse to get out of the house. We also stopped at the "
Haines Shoe House
" along the road. This roadside attraction sells ice cream, souvenirs and gives tours. We just took the free photos.
15 years ago, we were on our way to work in the Adirondack Mountains of New York. It was our fist year on the road. It's also the last time we were in Pennsylvania. During that trip, we stayed a few days visiting the Gettysburg National Military Park. Often referred to as the "High Water Mark of the Rebellion", Gettysburg was the Civil War's bloodiest battle and was also the inspiration for President Abraham Lincoln's immortal "Gettysburg Address". We were only 90-minutes away, so how could I resist not visiting there again?
Although the Visitor's Center and Museum were still closed, we could do a self-driving tour of the battlefields. We coupled this with watching a short virtual tour at each of the 19 stops. It was interesting to see maps and listen to the significance of each of the locations to the 3-day battle. It put the whole timeline of events of the battle into perspective. The entire battlefield areas are filled with over 1300 monuments. We spent over 6 hours on this self-driving tour. Another interesting and fun filled day, ending with some ice cream for the drive home.
Our two-week stay here at Gifford Pinchot State Park will conclude tomorrow and we'll be moving to Connecticut!
While here we did finally get our missing mail! We had mail forwarded to us almost 6 weeks ago. This was sent to "General Delivery" in the town we were staying near in Virginia. For a week, this mail package never showed up at the post office. We had to move on to Pennsylvania and left a "mail forwarding" notice. After a couple more weeks, it never showed up at the next post office either. We finally got notice that the package had been returned to our mail forwarding service in Texas. We had mail forwarded again to our current location. This time I had tracking included. The day it was supposed to arrive, it didn't. But tracking stated it was delayed and would arrive the next day. Finally, after 5 weeks, we got our mail! Normally, we have enough mail to be forwarded for Priority Mail, which includes tracking. The missing mail envelope was small and sent First Class, without tracking.

The lesson I learned was to always request tracking.