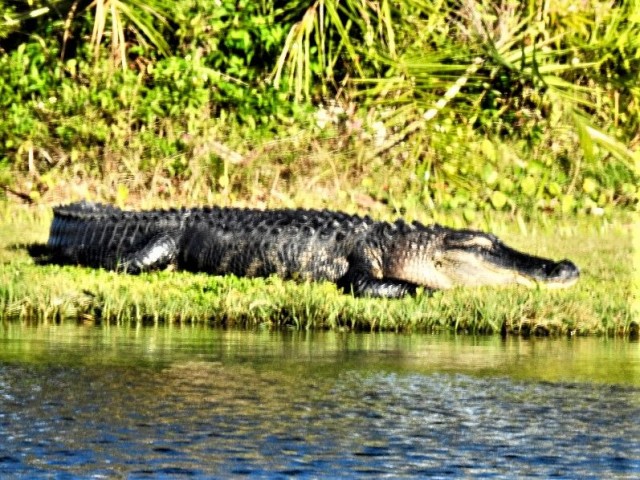 Connie and I are still enjoying a relaxing time at Patrick AFB, near Cocoa Beach in Florida. While the weather has been mainly in the mid-70's, it still feels humid to us. We may be wimps, as we run the air-conditioning most of the time. Not for the heat, but to ward of the humidity. The windows being closed most of the time also wards of the many flying, evil, biting insects. We don't have many mosquitoes anymore, but the "no-see-ums" are still having a meal of us. Don't get me wrong. I'm not complaining. We could be freezing and shoveling snow.

We enjoyed a couple days over New Years staying with friends Bob and Joyce. They have a house about 90-minutes away in Deland, FL. We greatly enjoyed their company again (and their hot-tub)!
We've also viewed a couple more space launches from nearby Cape Canaveral. That makes four launches we've seen in the past three months. None of them were manned. They were either satellites being deployed, supplies for the International Space Station, or a test launch of Space X Falcon 9 (which failed to reach the space station).

Besides the weather, the local wildlife has reminded us we're in Florida. The manatee have been congregating in the nearby canals. We can see them as the swim about, but it's difficult to get a photo of them through the dark water. But it's not difficult getting photos of the various alligators hanging out around the ponds on the USAF base golf course.
We only have another month left here at Patrick AFB and the past 3 months have flown by. We don't know why, as we're not doing much. Our days are spent reading and working on the computers, with the occasional trip to the store or laundromat. We do have a day trip planned to the large Tampa RV Show next week. We'll try to restrain ourselves and not come back with a new motorhome.
Since there's not much to report, I'll leave it there. Hope this finds everyone safe and off to a good new year!