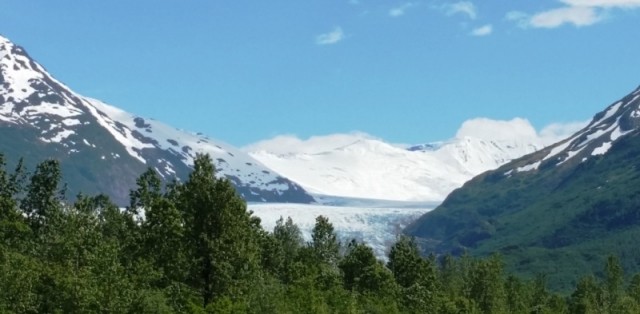 Before our trip to Alaska, we bought the "Alaska TourSaver" book. This $99 book includes hundreds of coupons, mostly "two-for-one" deals on tourist attractions. We used a few coupons at some gift shops while in Anchorage for free gifts. They were mostly 50 cent souvenir magnets. One of the coupons Connie wanted to use was for an Alaska train trip from Anchorage to Whittier. There was no special reason for wanting to do this trip, other than the experience of a scenic train ride. Getting to Whittier also involves going through a long, one-lane tunnel. Cars are allowed to go in one direction every half hour, alternating which direction to go. In between this, the train also uses the same one-lane tunnel and must be "aired out" with turbine ventilation fans after each trip. Using a two-for-one coupon for this trip was $93. When we went to the train station to purchase our tickets, the counter man explained we would have a 6-hour stop in Whittier. He also said there's "nothing to do there, but drink". Basically, he talked us out of taking this trip. Instead, we used another two-for-one coupon ($74) on a short scenic train trip from Portage to Spencer Whistle Stop. There is no other way to get to Spencer Whistle Stop other than by train. We went early and drove down into the Portage Valley. A very pretty area with campgrounds, Portage Lake, and a few glaciers. But we didn't have time to go through the tunnel to Whittier. Once at the Whistle Stop, we went on a 2.6 mile hike to the Spencer Glacier. This hike was lead by a USFS guide, and the four of us were the only ones on the hike. We had our own private tour guide. A easy hike with beautiful scenery and interesting information. We got pretty close to the glacier, and it was the first glacier we'd seen, other than a quick drive by in the distance. It was a good day.
Other days in Anchorage were spent walking around town, doing laundry, grocery shopping, etc. We visited the Anchorage Aviation Museum, highlighting the importance of aviation in Alaska's history. One of the days we went to the Anchorage Saturday market. I expected a few of the typical stalls. But this was a pretty large outdoor market with interesting items for sale. While we didn't buy anything, we enjoyed looking at all of the Alaskan crafts. Nearby a "Salmon Fishing Derby" was going on in Ship Creek. There were a few fisherman, but not much was happening. We didn't see any Salmon in the creek, but were told to come back in the evening. It was currently low tide and the action started later. We knew of several of our RV Boomer friends were in the area, so Connie gave a shout out for a get together. 10 of us meet at Applebee's for dinner and story swapping of our travels thus far. After dinner we thought we should drive by Ship Creek to see if anything was happening, what a huge difference! There were dozens of fisherman doing "combat fishing". They were still about 10' apart from each other, but I don't see how nobody got "hooked" with the wild casting going on. We were on a bridge overlooking the activities when things really got wild. A bunch of King Salmon came in and the fishermen starting snagging them right and left. I was a little shocked at how this worked out. To me, this wasn't fishing. This was just casting out and hoping to snag a salmon in the mouth. Otherwise, they couldn't keep it unless the hook was in the mouth. At times, a single salmon had three lines and hooks into it, snagged by different fishermen at the same time. We watched 5 or 6 people have different fish snagged at the same time, but usually had to release them. We did watch a few walk off with their King Salmon, and it looked like they were not "legally" caught - just snagged on the gills. But there was one experienced fisherman who just walked down the middle of the creek and starting casting. He was snagging salmon every 3 minutes. Finally, he snagged one in the mouth and kept it. It was a pretty large King Salmon, about 20 pounds.
One of our day trips was to the small historic and restored gold mining town of Independence. It was another beautiful drive up the mountain. I love how everything is lush and green. Many of our hikes remind me of the rain forests in Hawaii. Although their website stated "Open Today" and there was a guided tour scheduled at 1:00, the gates were closed. Nobody around. However, it was raining pretty good and it was cold. While we would have liked to see the old town and the old buildings, I think we might have been too cold and wet to really enjoy it. Oh well, it was still a very scenic drive.
We decided to extend our stay in Anchorage for another night. We spent the extra day with a couple short hikes to Thunderbird Falls and then at the Eagle River Nature Center. Leaving on June 15th, we made the short 60 mile trip back to Portage Valley. We spent June 15th - 18th at a Forest Service Campground, Williwaw Campground (60.78542, -148.8752) near Portage Glacier. During our stay, we did some more short hikes. The best hike was to the Byron Glacier. Here, we walked right up to the Glacier and could walk on it. We also used a two-for-one coupon to take a boat ride to the Portage Glacier. We were pretty close and could see details of the glacier. Another day while here, we finally made it through the tunnel to Whittier. We learned that the Anton Anderson Memorial Tunnel (Whittier Tunnel) was made by the US Army for trains to get supplies from the Whittier port into Alaska. This was one of the few ports from Prince William Sound that doesn't freeze up during the winter. The Whittier Tunnel is the longest (2.5 miles) tunnel in North America. Once in Whittier, we were glad we didn't have to spend 6 hours here. It was more of a large boat marina than a town. There were a few tourist gift shops and a few small dining places. The rest was boat storage, repairs, and marinas. There were some great waterfalls in the area. We started on a hike to Horsetail Falls. It was a great hike, mainly on a boarded trail. Although it was all up hill, we didn't feel we were getting close to the falls. After a mile or so, we encountered a soggy meadow and decided to turn back down. Although we didn't get close to the falls, we did enjoy this beautiful hike.
Our next stop was in Seward, 80 miles away. We dry-camped in a turn out along the Resurrection River (60.15923, -149.4448). It had been awhile since we had mail forwarded to us, so I had our mail sent to Seward. Unknown to me, there's not a lot to do in Seward. While there (waiting for our mail to arrive), we did visit Marathon Mountain. This mountain goes to a little over 3000'. What's unique is the annual race up the steep side to the top and back. What started as a simple bet, it's now an annual local event. Since this year's race is coming up soon, we saw many people practicing and strategizing for the race. One young lady had just returned. It took her 91 minutes to get to the top and 32 minutes to get down. Ouch! I started hurting just looking up to the top (which was covered in clouds). We spent many hours just walking around the small town, full of tourist gift shops. Another short trip was to the nearby "Fish Weir". Watch out Salmon - it's a trap! Salmon trying to get up the creek were just jumping into this trap, being scooped up and sent to the cannery. The highlight of this stay was the 2.6 mile hike to Exit Glacier. This hike took us pretty close to the glacier. However, it was a cold and windy day and I was eager to get back down. Now that we've seen many glaciers, we don't get so excited about them. They're neat, but pretty much all the same (but the clear/blue ice is interesting). However, all of the glaciers we've seen so far are in the interior and terminate at a lake or creek. Perhaps we'll be a little more excited when we visit a glacier that ends at the ocean. We plan to take such a glacier tour when we get to Valdez. Luckily, our mail arrived after waiting over the weekend. We arrived in Seward on June 18th and left on the 24th.
After leaving Seward, we planned to stop near Cooper Landing and the Russian River. However, this area recently had a few forest fires and most of the camping locations were closed. We decided to bypass it for now and head to Soldotna for the night. It was 93 miles from Seward to Soldotna. We arrived in Soldotna at lunch and decided to continue the remaining 70 miles to Homer. We plan to stay in Homer for a couple weeks. Mainly to be in one place over the July 4th holiday, but this is also where Connie will take her Halibut fishing charter. We arrived here a couple days ago and are staying at the Mariner City Campground (59.63183, -151.49653) on the Homer Spit for $95 a week dry camp (or $15 a day). We're parked looking out over the Cook Inlet. We're regularly entertained by Bald Eagles flying by. Yesterday, we enjoyed another 1.5 mile hike in the Eveline Recreation Area. This was in an Alpine meadow (lots of flowers in the meadow), looking out over the Cook Inlet at glaciers across the way. We enjoyed our picnic lunch in this calming location. Afterwards, we stopped at the Bear Creek Winery. We had coupons for free wine tasting. This isn't your usual wine. Most of their wine is made with berries (and rhubarb). It's made locally and was pretty good (but some just tasted like berry juice). Yesterday, the weather was great. Today, it's cloudy and raining. It's a good day to catch up on computer stuff.
Recently, we've started seeing more moose. Just in the past few days, we've seen a couple adult moose cows and 6 babies. While in Seward, there was a baby moose, about 3 weeks old, that had been separated from his mother. The ranger speculated that the baby got caught in the Resurrection River and was swept downstream. The baby was "crying" for his mother, a pretty sad sight. The next day, the baby was gone. Hopefully, Mom found him. Although we still get excited seeing a Bald Eagle, they are getting fairly common now. We've seen dozens of Bald Eagles, as many as 20+ in one location.
For a few financial facts to date, since crossing into Canada on May 16th, we've spent $1432 for diesel fuel, $112 for auto gas, $688 for groceries (includes wine and beer), $331 for dining out, $320 for tours (etc.), and $309 for camping (all in US dollars).