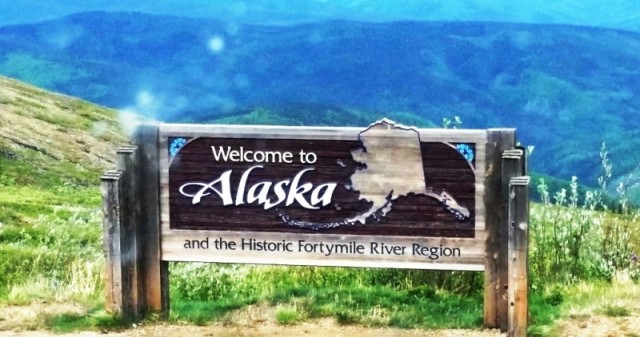 After leaving Whitehorse, we had another day of beautiful scenery. On June 1st, we arrived at a one horse town in the Yukon Territory called Pelly River Crossing. This was just a one-night stop at an abandoned government campground (62.8264, -136.5845). At least it was abandoned while we were there. By morning, there were 5 campers using the campground for the night. However, it looks like they may open it again for the summer. The next day, we arrived in historic Dawson City. We crossed the Yukon River on a small ferry to reach our campground of choice. We stayed two nights (June 2nd and 3rd) at the Yukon River Government Campground (64.07176, -139.48562). Government campgrounds in the Yukon are $12 CAN a night for dry camping, which was $9.77 in US dollars.
The main downtown area of Dawson City has been mostly renovated to look like it did in the early 1900's. This gave the town a charming quality to it. While touring the town, we visited "Dredge #4", the largest wooden dredge ever built. It was pretty interesting to learn how these large machines operated. This dredge was pulling out over 50 pounds of gold from the ground every 3 days! But it wasn't an easy job with the ground being frozen by "permafrost". It would take up to 2 years to prepare (thaw) the ground before the dredge could be used. There's still plenty of active gold mines in the area. We also saw the "Keno" stern-wheeler, which was a smaller paddle wheel boat than the "Klondike"which we saw in Whitehorse. We also visited a "reconstructed" cabin used by author, Jack London. One of our "highlights" for the day was having drinks in "Bombay Peggy's", a restored brothel. Diesel was $3.71 US a gallon.
Since we were staying in a campground across the Yukon River, we had to take the free government operated ferry each way. Wow! That was also an experience, with the fast flowing Yukon River.
Here's a time-lapse video of our initial ferry crossing in the motor home:
After leaving Dawson City, we were on the "Top of the World" highway, heading to Chicken Alaska! This road lived up to it's name. Most of the road is a good gravel road (actually, pretty smooth) that went along the top ridges of the mountains. There were fantastic 360 degree views for miles out. Around lunch time, we arrived at the USA border. We had no problems crossing back into the USA. However, soon afterwards, the road turned into a narrow, windy, dirt road called the "Taylor Highway". This road wasn't too much fun. Mainly since, it got pretty narrow with a cliff on one side and the side of mountain on the other. Luckily, we didn't have any problems when other large RV's were coming the other direction. But Connie did close her eyes each time. We drove for 107 miles, which took us over 3 hours.
June 4th found us staying in a large gravel work yard a few miles past the gold mining town of Chicken (63.99105, -142.1289). Chicken is a very active gold mining community with a population of 35 (during the summer). There are 3 businesses in town. Dry camping at one of the two RV parks was $18 US a night! It didn't take long to tour this small town, including another large dredge. We decided not to try our luck at gold panning. We could go up the road and pan for free on public land, or paid $10 and try our luck at one of the shops. Although small, Chicken was another small, interesting and historic town.
Our next stop was 75 miles down the road to Tok, AK (June 5th) for one night. We found a quite field behind the Shell gas station (63.3331, -142.9633). We were soon joined by 5 other RV's spending the night. Tok is the first town in Alaska after crossing the US border. Chicken doesn't really count as a town. We fueled up and got some groceries. Some prices were a little better than in Canada, but not much. Diesel was actually more expensive at $3.86 a gallon. Tok also has the unofficial declaration of being the busiest location for car washes. Yes, we washed the RV's and cars. After coming across the Top of the World and Taylor Highways, we were covered in dust and mud. We filled up with fuel at the Tesero gas station, which also allowed us free use of their car washing station. At least we got rid of the mud build-up.
Our plan was to continue south to Valdez, AK. However, we checked the weather and it was snowing and freezing in Valdez for the next week. In Tok, it was in the mid 60's F. So our plans changed and we decided to head for Anchorage instead. Weather there was to be fair and in the upper 60's. We'll try to get to Valdez on our return trip. We drove 185 miles on our way to Anchorage and stopped at a roadside pull-off for the night of June 6th (61.9915, -146.90174). We had planned to stop sooner at a rest area outside of Glennallan, but found it was closed off. We ended up driving another 30 miles to find a decent place to stop for the night. After an uneventful night's rest, we were back on the road to Anchorage. Boy, the drive was fantastic! We were now seeing snow capped mountains and a few glaciers nearby. Although the road did get a little narrow, windy, bumpy, and some construction, the views more than made up for it!
| | |
| --- | --- |
| | |
We arrived in Anchorage around lunch time after a short 130 mile drive. We're currently staying on the Joint Base Elmendorf-Richardson (Army and Air Force) at the Black Spruce RV Park (61.26021, -149.71942). We'll be here from June 7th to the 14th. During the past three days, we've watched pontoon planes take off and land, visited the Aviation Heritage Museum, done quite a bit of shopping, and walked around downtown Anchorage. While it's not cold here, it has been raining about 50% of the time. This week was very welcomed, giving us time to relax and catch up on some needed chores (like updating this blog). It's also nice to have cell phone coverage again, especially our 4G data. For the past few weeks, we've been relying on our Satellite Internet. While it worked "most" of the time, it also got pretty slow the further north we went. It's also weird to see the satellite dish angled less than 90 degrees. This is because we're so far north, the satellite is just above the horizon. Food prices are a bit better here than we've seen since leaving Washington state. Diesel is $3.33 a gallon.
Lately, we haven't seen much wildlife. It's actually pretty disappointing, as everyone told us we would see more as we got into Anchorage. Since crossing the Canadian border, we haven't seen anymore Bears or Moose than the original 11 Black Bears, 4 Moose, 2 Coyotes, and a herd of Bison. But we can add a Snow Shoe Hare, a Porcupine, a few Swans and a couple Bald Eagles to the list. Oh! We did see a young Grizzly Bear along side the road. For a few financial facts, since crossing into Canada, we've spent $1278 for diesel fuel, $112 for auto gas, $427 for groceries (includes wine and beer), $177 for dining out, and $202 for camping (all in US dollars). Lots of groceries bought since we got into Anchorage!