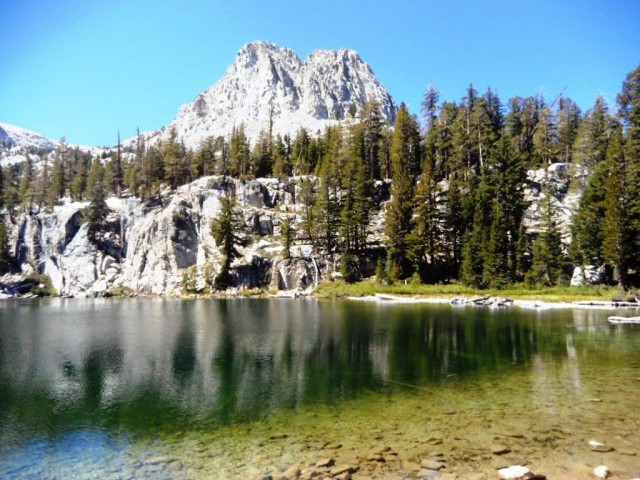 Happy Labor Day and thank you to all the hard working people who help make our lives a little easier. We haven't heard any negative reports from our area managers so I think all in all the busy, last hurrah of the summer, went off without a hitch and today was mass exodus for our campers.
It was a beautiful day, it's our day off, let's go! We spent yesterday doing chores. As you know, Larry fixed our heater, and I gave the inside of the motor home a scrub down plus the normal chores of laundry, dishes, and bathroom cleaning. So we never have any excuse not to get out on day 2 of our weekend.
We had heard how beautiful TJ Lake is, in the The Lakes Basin, so that was our goal. The trail head started next to Lake George, wound itself pass Lake Barrett and just a little more uphill was TJ Lake. It was a very short hike in my book, just shy of one mile one way, but it was uphill. Which meant to Larry it felt like 2 miles uphill, lol.
Since it was such a short hike, neither one of us was hungry for lunch when we got to TJ Lake, so we brought our Subway sandwich back down to Lake George and sat in the picnic area and enjoyed watching people playing on the water in their kayaks and paddleboards.
We then went for a little drive down a couple of roads we have driven by before and wondered where they went? The first road took us to the High Sierra campground ran by the city of Los Angeles Dept of Recreation & Parks. We were surprised to see they charge $35-$40 for a no hookup site with a rough rock fire ring, table and bear box.
The second road we took was a dirt road I pass by on my walks and wondered how far it would take you. It ran from Old Mammoth Rd, behind Vons, all the way to Hwy 395 along Mammoth Creek, about 5-6 miles. Nothing exciting, but now I know, lol.
Hope you all had an enjoyable Labor Day!