10/31/09 - Rachel, NV - Happy Halloween!>We've closed all the campgrounds and are now heading to Arizona. As a change of pace, we decided to go through Nevada instead of California. Since we've never been in this part of Nevada, we decided to go a little out of the way and drive the "Extraterrestrial Highway". This road borders the infamous Area 51. We stopped for the night at the "A'Le'Inn" in Rachel, Nevada. This little diner has RV sites and tons of stuff on Aliens. We'd heard about it and wanted to see for ourselves. A cute little diner with photos and alien souveniers. Just another tourist gimmick (which worked to get us here). But the lucky part was they had a free BBQ rib dinner to celebrate Halloween. Many of the local residents had a get together at the diner and invited us to join them. Good food!
10/27/09 - Indian Valley Campground, Tahoe National Forest, CA - After sitting still and working in one location for the past 6+ months, we've finally moved! However, we're still working - at least for a few more days. Last week, we moved the motor home to Reno for some minor repairs while we attended a quarterly managemene meeting. This worked out good for us. We had the gas hot water heater repaired and the toilet seal replaced. They were to also repair a leaking shower, but we were told it would be over $300 to replace the shower. We decided to wait on that. They were also supposed to replace/fix some outside running lights that were damaged with a tire blow-out last year. When we picked up the RV, we were told the lights were fixed. However, (luckily) I checked and they were not! An hour later, the lights were replaced and wroking and we didn't have to pay the $100+ for labor.
We were worried about leaving the motor home up at Jackson Meadow during our week of training, in case it severly snowed. Taking it off the mountain and leaving it at the RV repair for the few days worked out nicely. When we left Reno, we decided to go a little further East and spend the night at the Fallon Naval Air Station RV Park. A nice, clean RV Park for only $13 a night for FHU. Sorry - just military are allowed to use it. We did return back to Jackson Meadows Recreation Area to check up on the closing progress. We spent one night at the Pass Creek campground. This area is about all closed up with just a few issues left. We have some concrete contractors working there, so the local manager needs to stay and keep one water system on for them.
On Saturday, we moved over the mountain to the Yuba River (North). We're staying at Indian Valley campground, which is only at the 2500' elevation. We've plugged electric into the bathrooms and are enjoyoing havingelectric all day! For the past 6+ months, we only had electric during the day when the "compound" generator was running. We'll be here for about a week as we finish closing off this area and taking care of some final paperwork.The last camp host is leaving today and the manager is leaving in a couple days. I hope to leave on Saturday.
It'll be nice to get on the move again. We're really looking forward to getting back to Arizona to visit with our daughters and grand daughters for a couple weeks. Then we'll head towards Florida. We plan to get to Florida by the middle of December in order to take advantage of Disney's Military Appreciation. Larry will get a FREE 5-day "park hopper" pass for Disney World and Connie and gets the same pass for 50%. We already took advantage of a similiar deal at Disneyland in California at the beginning of this year.
10/8/09 - Jackson Meadow Recreation Area, CA - We're still here at our summer workamper jobs, but only for a few more weeks. We've been up here for almost 7 months. This is the longest we've spent on one summer job. This year has been fun, but we're ready for a change of scenery. Over half of the staff has already been laid-off for the season. There's not many campers and the place has been quiet. Other than being ready to leave, we enjoy this time of the year. It's quiet, there's not many campers, we have the place almost to ourselves, the weather is pretty good (warm during the day - cold at night), and there's minimal work. Although we're ready to leave now, in a couple months, we'll be anxious to get started again.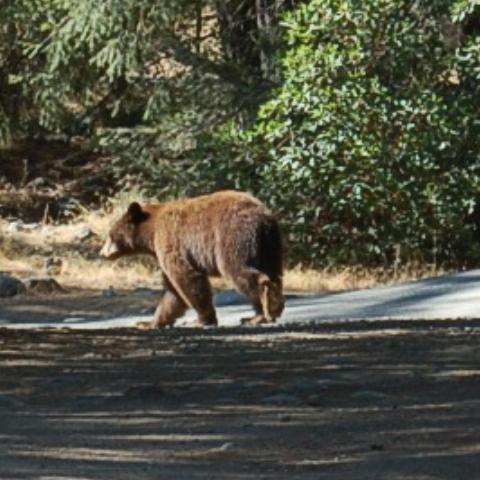 After working in the outdoors and mountains for 5 years, we FINALLY saw a bear at work!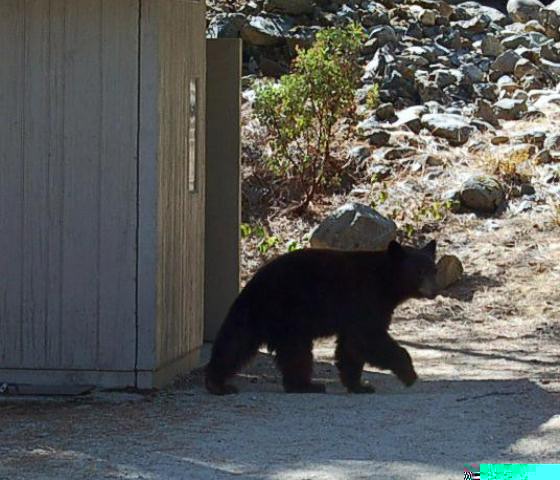 Connie and I were out walking around a campground taking photos when a Black Bear came out of the bushes about 30' from us. Luckily, he/she wasn't too interesetd in us. We had the bear in front of us, and a cliff and river behind us. If needed, we didn't have anywhere to go! I've attached a couple photos of our friendly Black Bear. He would walk away from us, look back at us, and stroll further away. We were fortunate to have our camera with us and got some good shots.
Months ago, I mentioned how we created a store and office area here. Although a little late, here's some before and afer photos of our work.
| | |
| --- | --- |
| | |
| Before - Camp Store | After - Camp Store |
| | |
| Before - Office | After - Office |
This winter, we've decided to do some traveling. Of course, we're limited to the warmer southern states. After visiting our kids and grandkids in Arizona, we'll head to Florida. We plan to visit many military campgrounds as part of maintaning our U.S. Military Campgrounds and RV Parks website. It's been a few years since we visited Florida, and we enjoyed it then. Perhaps we'll have some good stories to tell during our winter travel time.