3/22/2009 - Indian Valley Campground, CA: We GREATLY enjoyed our stay at Beale AFB. The campground was in a quiet section of the base. We didn't do much during that week, except relax. Since we're anxious to get started on our summer jobs, we did make a couple day drives to the areas we'll be managing.
After a week at Beale AFB, we moved a few days ago to Indian Valley Campground on the Yuba River (North). Our travel and arrival day was beautiful (see photos). The next day, it rained, then rained all night. Today, we had some strong snow all morning (see photos), but this afternoon it's back to rain and the snow is almost all gone already. We'll start getting things organized here, as we have employees arriving in a couple weeks. This is one of the few campgrounds that has electric. Although we scheduled the electric to be turned on almost a week ago, they've twice been scheduled and still haven't turned the electric on. They promised it would be turned on tomorrow (Monday). We sure hope so! Although we're use to and equipped to dry-camp, camping in the cold snow would be easier if we had electric. As it is, our generator has been running for 5 hours today. But it's pretty here and quiet. We're almost right on the Yuba River and have a pair of Canada Geese hanging around the campground. We have the entire area ll to ourselves (at least for now).
3/14/2009 - Beale AFB, CA: The last week of our stay at Seal Beach was spent visiting family. We spent the afternoon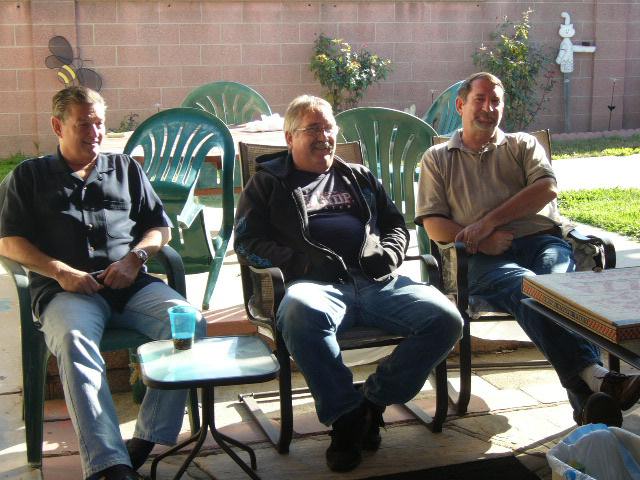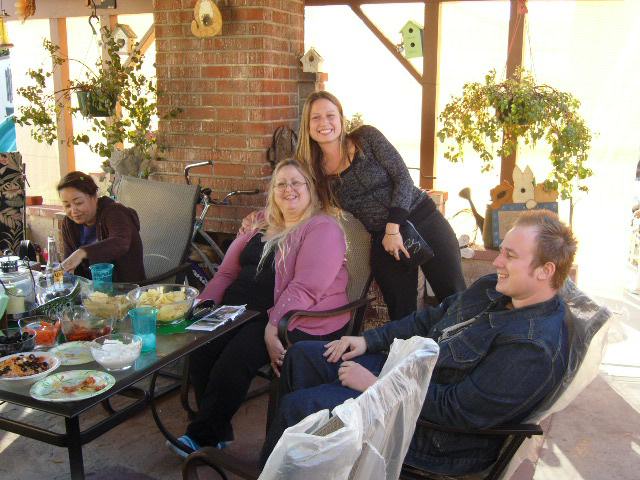 with Larry's two brothers (Rocky and Kenny) and their families. It had been years since we'd seen them. Kenny and Mary laid out a good spread of food and had everyone come to their house. Although we didn't plan it, we were staying only 30 minutes away. For some reason, it seemed everything was fairly close to where we were staying at Seal Beach. It was great seeing everyone again and catching up on their lives. We also spent another day with Connie's parents again, visiting a Farmer's Market (Connie loves them).
We left on schedule and drove a few hours to Wasco. CA. Just a farming community, there's an old Elks Club there that provides a spot for RV's to spend the night, including water and electric hook-ups. By the time we get through Los Angeles traffic with the motor home, we're ready to get off the road and relax. After a night there, we moved a few more hours north to the Escapee Park in Coursegold, CA. Larry's boss lives near here and we came to pick-up his company truck for the summer. This is near the same area we've worked for the past 2 summers. It was fun to visit the area again and bring back fond memories. We like this Escapee Park (Park of the Sierras). It's not your usual RV Park where everyone is lined up in rows. This park is hills with sites going every which way. Although we had to move sites, we ended up with a very nice site in the sun at the top of a hill. If we ever wanted to lease a RV lot, this would be one we'd like.
After a few days in Coursegold, we kept going north to Beale AFB outside of Marysville. We'd never been to this base and wanted to see their campground. In addition, it's only an hour or so from the Yuba River Ranger District, one of the areas we're managing this summer. We'll stay here a week to explore the area. We plan to move next week into one of our campgrounds. Indian Valley campground is only at the 2200' elevation, so snow shouldn't be a problem. This host site has electric and we'll get the water system operational. We'll use it as our base while we get organized and ready for employees to arrive next month. Of course, this is a whole new area to start exploring.
3/5/2009 - Seal Beach, CA: We've been keeping busy here! Late last week, we spent the evening with Connie's parents. It had been a couple years since we've visited them at their condo. They recently remodeled the kitchen and living area and did a GREAT job. It's more open and has a friendly atmosphere.
We returned to Disneyland for our second visit on the 3-day hopper pass.. The weather was predicted to be rainy here soon, so we went on a Sunday before the rain came in. This was a mistake. The place was extremely crowded, and this is the slow season! I can imagine what the place is like during peak season. We didn't go on too many rides, mostly walking around enjoying the sights. Being the end of February and the start of a new month, I always have a few days of serious computer work to do. Monday was a computer work day. Our Military Campgrounds and RV Parks website has monthly tasks to get done. We write a monthly eNewsletter and send to almost 14,000 website members. In addition, there's the monthly update of a couple versions of our Military Campgrounds Directory software. In addition, a quarterly update of another software program for the Escapee Boomers was accomplished. On top of this, the eNewsletter always generates TONS of emails and questions. However, we took a break from the computers on Tuesday and made our third, and final trip to Disneyland. This was the best day!
We first started at California Adventure and the place was almost empty! It was great! We were able to walk directly up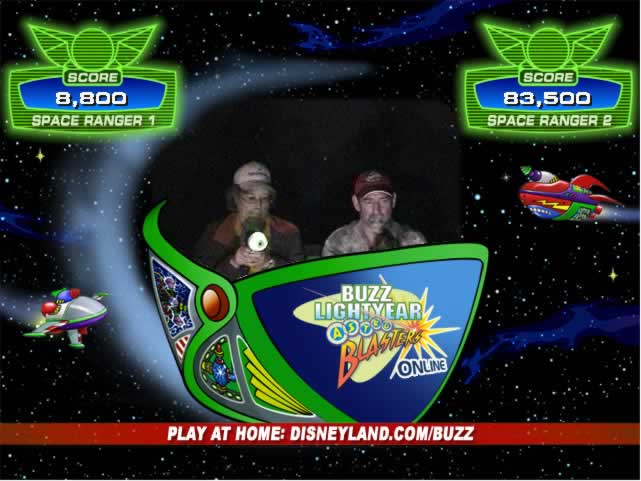 to the rides. We then headed across the street and stayed at Disneyland the rest of the day. Again, the crowds were minimal, allowing us to easily get on some of the more popular rides. The weather was great and it was a fun day. I wanted to stay until the evening and watch their "Fantasmic" special effects show. Since we were done walking around and doing the rides, we claimed a front seat spot at 5:30pm. Sitting on the hard, cold pavement, we "people watched" for 2 hours! The show was good, but we're not sure it was worth sitting there with sore and cold butts for 2 hours. Other people knew better and brought blankets.
These past couple of days we stayed home (finally) and finished our computer work. I think we'll finally be caught up by this afternoon. Don't get me wrong, I may call it "work", but it's more fun than work and better than going into some office.
We had originally planned to leave yesterday after being here one week. But we've extended for another 5 days and now plan to hit the road again on Monday. Although there's a TON of stuff to do here, it can get expensive (already has). Next destination - back to near our old summer working area. We'll go to Coursegold, CA to pickup a company truck on our way north.