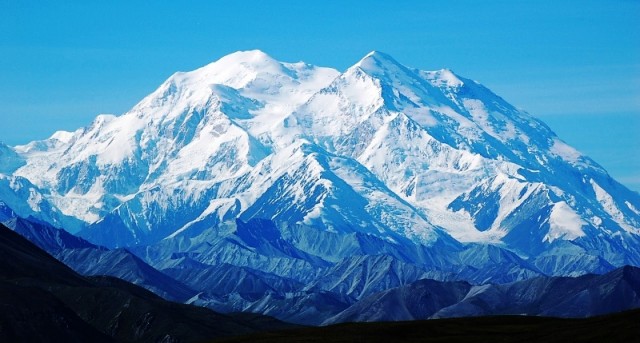 From our last post we were still in Fairbanks for another 5 days. We didn't sit around doing nothing, we knew of some Boomer RV friends who were coming into Fairbanks and we arranged a trip to Chena Hot Springs, which is about 50 miles northeast of Fairbanks (July 29). This was one of my must see and do items on our Alaska trip. We started off our visit purchasing our tickets for their Ice Museum. You must also pre-purchase your ticket for an Appletini, at their Aurora Bar. Connie P. and I were the brave ones of our group. When you enter the Ice Museum building you do so as a group. This is so the temperature doesn't drop below the 27 degrees. Large parkas were provided for our use and it was suggested that we bring our own hats and gloves. Yes it was very cold inside but there were some great carvings. Heather and Steve Brice are the resident carvers. Steve is a 16 time world champion carver and Heather is a 7 time champion. Both were inside busy either in the workshop making martini glasses or making repairs. Connie and I were eager to get our Appletinis so we looked around a little and then hit the bar. The beverages were very good and it was fun to sit at the ice bar on ice stools covered in Caribou hide. After our drink we looked around some more.
After our Ice Museum tour we headed back outside and we all enjoyed our picnic lunch. This place had some beautiful gardens and flowers. Chena Hot Springs is off the power grid. They have their own power plant that is geothermal. After our wonderful time soaking in the hot springs we took a short tour of the geothermal plant and the grounds.
During our stay at the Chena Cove Campground we had noticed a beaver had been busy cutting down trees in a couple of sites down from us, so I placed my trail camera in the site to see if I could see the little guy at work. The first two days nothing, the next day some people set up camp in the site despite my telling them there was an active beaver working there. Well that didn't stop Mr. Beaver, he brought down a fairly large tree, luckily it didn't hit anyone and the people left that morning. I had one more chance as we were leaving in the morning. I set up my camera again in the site only this time I set it on the ground. I now have the only animal picture I've captured on my trail camera that I specifically bought for this trip.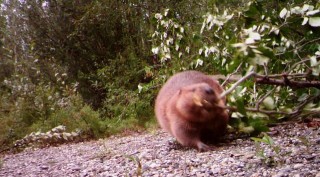 August 2 was moving day after being in Fairbanks for 2 weeks. Our Denali adventure was starting on the 3rd so we staged ourselves about 20 miles north of the park. We spent the night at a roadside pullout north of the town of Healy (Aug 2 - 63.980408, -149.118871). We drove the car to Denali and pre-registered for our 4 nights at the Teklanika CG (Aug 3-7) so we could have an early entry the following day. On our way back from registering we stopped in Healy at the 49 State Brewery for a little happy hour. In the morning we drove into the park, away from the communication world, no cell or internet for 4 days. It was forecasted to be clear on this Monday and Tuesday, and it did not disappoint! On our drive in, it was beautiful clear blue skies with a fantastic view of Mt McKinley. You can drive your own vehicle 15 miles into Denali NP though there is a park entry fee. If you want to go further into the park you must ride the park bus for a fee. If you have reservations at one of the campgrounds in the park, you can drive your vehicle to the campground, and then you must ride one of the park buses to see the rest of the park. We had reservations for the park bus for the following morning. This meant we had a reserved seat for all the stops between our campground at mile 30 to the end of the NP at mile 92. If at any time we wanted to ride the bus again during our stay, it would be on a seat available basis. During our bus ride on Tuesday again we had spectacular weather which gave us great pictures. 10% of people get to see Mt McKinley cloud free, 30% of people see Mt McKinley at all. We are in the 10% club! Wednesday morning we went on a little hike and then later that afternoon a storm rolled in. Our entertainment for the rest of the night was a lighting storm with a little hail. Thursday we had planned on going on a ranger led hike with Bob & Joyce but we decided to ride the bus to the Eielson Visitor Center and look around more since we didn't have much time on Tuesday. It was an extremely smoky (from fires north of Fairbanks) and cloudy day. We ate our picnic lunch walked a couple of trails and then rode the bus back to our campground. Friday was moving day to change campgrounds to Riley Creek for the next 3 nights (Aug 7-10). This campground is located at the entrance of Denali NP. As we drove out we once again had views of Mt McKinley though the clouds were starting to move in. Though we didn't see a ton of animals we did see some, 6 grizzlies, Dall Sheep spots, moose, Gyr Hawk, golden eagle, and lots of caribou.
As we moved to the entrance of Denali NP we came into cell phone range again. Bam, both of our phones went crazy with texts, messages and voice mail. Unfortunately the day we went out of the communication world, that night our server crashed. For 4 days our business we run and support were without service, yikes! We hurriedly set up in our site and Larry set out to figure out what happened. All was corrected and back on line Saturday, YEA, because we were going white water rafting on the Nenana River that afternoon.
The rafting trip (coupon $99 for the two of us) was a blast, thank goodness for the suit they put us in to keep us warm and dry, because that water was freezing! After our 3 1/2 hour trip we went to the Base Camp Grill at the Princess Lodge for seafood nachos and drinks. Bob & Joyce had been telling us about these nachos for 5 years and luckily still served them and for the same price they paid in 2010
Sunday we went for a hike around Horseshoe Lake. Bob, Joyce and I hiked it Saturday morning while Larry was working on the computer problem and it was such a nice hike I wanted Larry to enjoy it too. Lots of beaver dams and a huge lodge, no sight of beavers though. We did see a moose on Saturday morning. On Friday night we went to a presentation at the Denali learning center. The talk was on wild mushrooms. We have seen so many wild mushrooms around Denali. They are so cool looking, so I took a few pictures of them.
Monday was moving day again, time to head north back to Fairbanks for some groceries and then our next destination, Valdez. We only spent one night in Fairbanks at the SAM's club (Aug 10), one night along the road at Paxson Lake (Aug 11 - 62.944862, -145.515217) and we arrived in Valdez on Wednesday. We stayed at the Valdez Glacier Campground (Aug 12-15 - 61.1385, -146.2042). Boomer RV friends arrived a little later that afternoon, so we invited them for dinner and caught up with their adventures since we last saw them in Homer. What a beautiful drive through Thompson Pass down to Valdez, lots of beautiful green rolling hills, tall mountains, and glaciers, the largest glacier was Worthington Glacier. Bridal Veil and Horsetail Falls were gorgeous. Thursday we went back to these points of interest and explored around them a little more and enjoyed some blueberry picking.
We had made reservations for a Glacier/Wildlife cruise when we were in Fairbanks (coupon $125) for Friday. This was a 7 hour tour where we saw the Columbia Glacier, which is a tidal glacier and lots of its icebergs. We saw some substantial calving which resulted in a good size wave. Our wildlife viewing consisted of sea otters, puffins, a humpback whale, and Stellar sea lions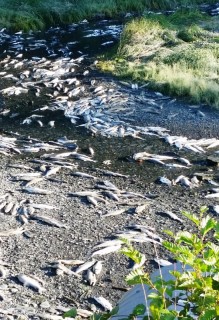 We went out to dinner when we returned from our cruise and afterwards we thought we would drive out to see if any bear were around the fish hatchery or weir. What we saw was astonishing! The pink salmon that had been born at the Solomon Fish Hatchery were trying to return. However the hatchery already had their 200 million eggs and so closed their weir leaving thousands of pink salmon with no place to spawn and left to die. We saw dead pink salmon everywhere in the bay, seagulls eating their fill, a bald eagle so full he couldn't move. No bear when we were there but I guess they were expected as there we plenty of people sitting around with their cameras waiting for them. We drove to the weir and saw where the gate was lifted up and the salmon desperately trying to get in. It was such a sad site, not to mention the smell! We did see a black bear run across the road in front of us, but no picture. Saturday we left Valdez and drove to Tok. We stayed August 15th and 16th in a lot behind the Tesero Gas Station (63.347202, -143.136711). We had ordered to have our mail forwarded last week and we can pick it up on Monday. Today was a down day to catch up on the blog. We did head over to a gift store that we had a coupon for a free ¼ pound of fudge. After we get our mail this morning, we cross back into Canada, so we are cooking up the rest of our chicken and eggs tonight as they still have a ban on them in their raw state.
Here's our financial facts since crossing into Canada on May 16th to today, August 17th. So far, we've spent $2334 for diesel fuel, $422 for auto gas, $1646 for groceries (includes wine and beer), $934 for dining out, $1109 for tours (etc.), and $843 for camping (all in US dollars).