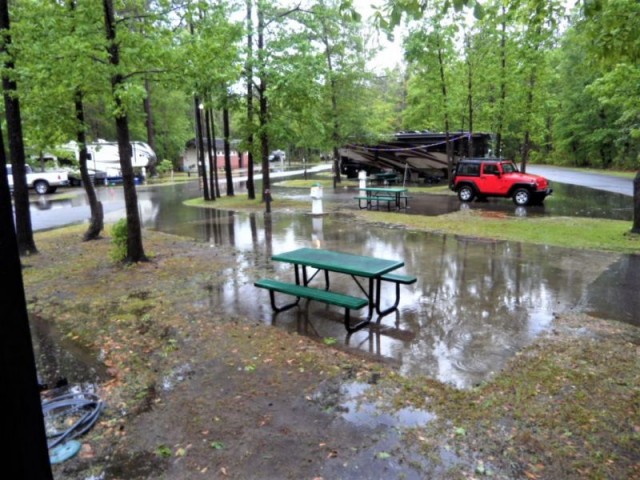 ---
---
Larry and I follow many blogs. We enjoy reading of other peoples adventures and their beautiful photos they share, and we dream that one day we would like to go there as well. But there hasn't been any traveling as of late. No tales from the road, no gorgeous pictures of castles in the sand. These bloggers love to share their experiences, but if they are stuck at home or in a campground with nothing to do, what is there to write about?.... Food!
Larry knows that when I get bored, I bake. I resisted not baking anything for a whole month. I had plenty of ingredients, I just didn't think I needed to make more food for us to eat. One of the groups I belong to on Facebook is a Natural Fermentation (mostly sourdough) page. People had been posting beautiful loaves of bread they made and I finally broke. My sourdough starter had been neglected for several months, and I did need some bread items (so I told myself).
It took a couple of days to get my sourdough starter back to it's bubbly self. When I get into "playing" with my sourdough, my counter usually looks like one big science experiment. Jars and bowls of bubbling dough just waiting to do it's thing. First up was English muffins. I've been making English muffins for many years now. I've always found the process very satisfying, bread that's not baked but rather cooked in my electric skillet. Last year when we were in Seattle with our daughter Leslie and granddaughters Kaylee and Khloe, I shared the English muffin process with them by having them help. They were eating the muffins as soon as they were finished, they loved them. You can bet I had a freezer full of them when they came to visit us last February.
I'm always looking for different ways to use my sourdough starter. Last November I came across a delicious recipe to make cinnamon rolls. This one is especially easy as I've gotten my bread maker into doing all the mixing. I've made these many times now. This last time I thought I would make half of them the traditional way and make the other half of the dough with a cherry cheesecake filling. It would have been fine if I had just stopped at the cherry filling part, but things kind of fell apart when I added the too wet cheesecake filling. Though they are still very tasty, they look more like a slice of pie.
Now that I've made some of my usual's, I thought I would challenge myself into making something unusual and new to me, Sourdough Croissants. After doing a Google search, I came up with a recipe that didn't look too hard, just a little time consuming. Guess what I have an abundance of?...Time! It was a three day process; Day One was easy, mix the dough. Let it sit on the counter for a few hours and then into the refrigerator for the night. Day Two was a little more hands on. Roll the dough out, fold into thirds, chill for 1/2 hour. Roll dough out, fold into thirds, chill for 1 hour. Roll dough out, fold into thirds, chill for 2 hours. Finally roll dough out cut and shape. Rest for 3 hours, refrigerate over night. Day Three, baking day, I was so excited for this day! I baked them to a beautiful golden brown, but I should have baked to a darker brown as they were a little under-done. However, I found that if I bake them again for about 10 mins, before serving, they are perfect. These were the perfect accompaniment to our Easter dinner.
Many of you may have never heard of ALDI Food Stores. Out in the west, they're only in California and back east they're pretty much everywhere. I fell in love with them when I was served a wonderful cup of German coffee along with some delicious German Christmas cookies. I couldn't wait until December rolled around when I could again buy those cookies! Since we've been on the east coast we've been to ALDI's many times. I was very happy with the Corned Beef I bought for St Patrick's Day and so I bought a Seasoned Butterflied Boneless Leg of Lamb for Easter. On the package it stated that it was perfect for Grilling, and so that was the planned method of cooking. On Easter Day it was predicted for high winds and rain, not the preferred weather for grilling. So I thought I would try a method I've been using to make my deli thin sliced roast beef, cook it in the Instant Pot! For the Roast Beef, I cook a well seasoned Eye of Round with 1 cup of water for 4 mins on High and then 1 hour on the warm setting. Since my Lamb was a thinner cut, I adjusted my warm time to 45 mins. Weather was still holding so I then took the lamb out to the BBQ and grilled each side for 4 minutes. This was my best lamb ever!
This was my cooking week, next up I might try making Sourdough Bagels once the other goodies are gone. Let us know in the comments if you want to hear more about my cooking adventures!