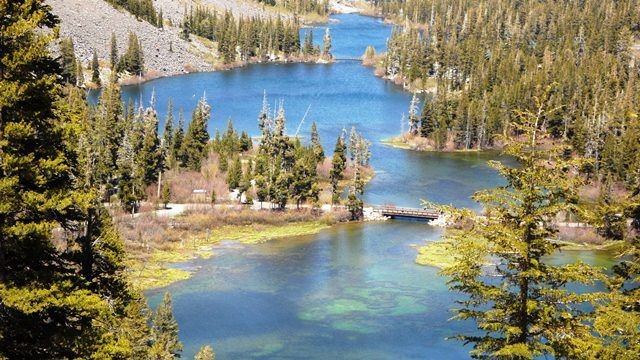 November 24, 2011 - Seabreeze RV Park, Seal Beach Naval Weapons Station, CA: Happy Thanksgiving! I had some free time, so thought I'd try to bring you up to date on what we've been doing all year. Yes - we're still living and traveling full time in our new motor home. With summer work and maintaing 8 web sites, I don't have much free time to write on this web site. I mainly keep this site operational for reference.
We had another great summer working in the Tahoe National Forest. The summer went pretty smooth without any serious camper problems. However, next year (2012), we're moving to work in the Inyo National Forest. We'll be withe same company, but just in a different location. Larry will still be an "Operations Manager", but Connie will become an "Administrative Assistant". She'll miss not having her own Camp Store to manage and operate. Instead, she'll be doing whatever is needed to help Larry run the place. We'll be staying in a campground in Mammoth Lakes, CA. But now we'll have full hook-ups! For the past three years, we haven't had much electric all summer. While we adjusted, it sure will be nice to always have electric to run everything!
The area we'll be working in encoompasses the Mammoth Lakes area, the Reds Meadow area, June Lake, and many campgrounds on Tioga Pass. This entire area is a popular tourist area. For the past three years, we've had a quite, hidden area to manage. Now, we'll be in a high traffic area. We'll have about 66 employees (hosts and maintenance) work with us, and about 3 times the revenue and expenses to manage. It'll be different, but we're looking forward to it.
After our recent work season concluded (end of October), we headed to the Seattle area for a couple weeks. We enjoyed visiting with Kenny and Wendy Ayers (Larry's sister). We also visited with our eldest daughter Leslie and her husband Andy, along woth our grand daughters Kaylee and Khloe. We stayed at the Burien Elks Lodge for most of the two weeks. While on a noisy highway, the price is good. Besides, there's not may places in the city for a large RV to stay. We had full hook-ups at this Elks lodge for $15 a night. As a special bonus, Andy gave Leslie a birthday present of paying for our youngest daughter, Cindy, to fly up from Arizona for a week. Cindy stayed with us for the week, so we had our entire immediate family together. It was great, impromptu family renuion.
We stopped and toured the "Harry and Davids" processing plant on our way north. A pretty interesting tour, watching them packing thousands of giofty packs for the holiaday sales. During our Seattle visit, we went to the Bavarian town of Leavenworth. We also took a ferry to Bremerton and visited the Naval Undersea Museum. We also helped (a little) Andy and Leslie move apartments. Of course, we got our grand kid fix. Connie had fun buying all kinds of gifts (clothes and toys) for the kids. We kept our visit short, as we didn't want to get stuck in ice or snow. Especially not being able to get through the mountain passes of southern Oregon.
After a couple weeks in Seattle, we left before an incoming snow storm. While traveling, we stay at many Elks lodges. There's plenty of them around that allow members to stay overnight. Most of some hook-ups for the RV. Prices are usually around $10 - $15 a night. During this trip north, we stayed at the Grants Pass (OR) Elks Lodge, the Coalinga (CA) Lodge, and the Kelso (WA) Elks Lodge.
We decided to go visit more relatives for Thanksgiving in southern California. Here, we're staying at the Naval Weapons Station in Seal Beach. It's a nice RV Park at $30 a night. We already visited with Larry's brothers Rocky and Kenny. Today, Thanksgiving, we'll visit Connies parents. Tomorrow, we're going to a large dinner with Connie's parents and her brother Brian and his kids. Besides the 6 adults, there'll be around 7 kids there.
Another reason we decided to come here was to visit Knotts Berry Farm in Buena Park, CA. For the past few weeks, Knotts Berry Farm has been having a "Salute to Veterans" and offering free admission to vets and a guest. Connie and I went there the other day and enjoyed an afternoon there. It had been over 25 years since we've been there. Besides, the price was right (free).
In a couple days, we're off to Tuscon Arizona. We'll stop at Mittry Lake in Yuma, AZ for a couple days. Then we have a few nights of free camping at the new Lazy Days RV Park in Tuscon. Following that, we have an appointment at Lazy Days for some simple RV service. Once that is all completed, we're heading to San Tan Valley (Queen Creek), AZ. We'll go there to visit with our youngest daughter, Cynthia, and catch up on yearly medical checks. In January, we'll head to Quartzsite, AZ to boondock in the desert with friends. We'll spend a few days with a Tiffin Motor Home users group, then stay with our Escapee Boomer friends.
While in Quartzsite, we also work inside the vendors tent durng the RV Show to help recruit for California Land Management. After a couple/few weeks in Quartzsite, well..... we're not sure what we'll do. We have a free 3-night cruise to Mexico we might take. Eventually, we'll end up in Mammoth Lakes in early April ready for another camping season.