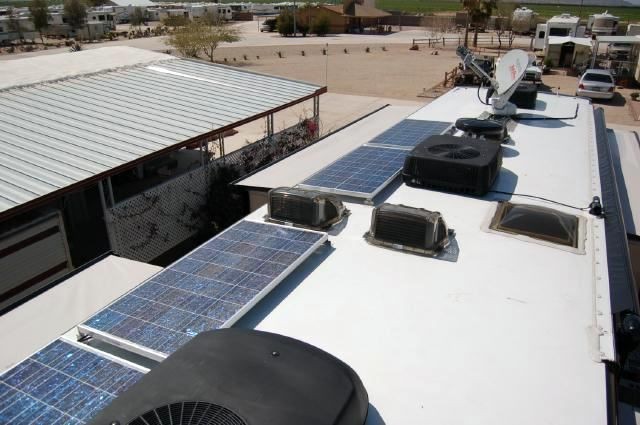 March 7, 2010 - Davis Monthan AFB FamCamp, AZ: After having a great time at the Ortona South Locks on the Caloosahatchee River, we knew we needed to start getting out or Florida. We still had many other military campgrounds we wanted to visit for our other website. That was one of the original reasons for making this trip to the Southeast. We started heading North and stopped at the Escapee RV Park in Wauchula, FL. Since Lazydays had given us 5 free nights stay at their RV Park in Tampa, we decided to stay there for a couple nights. Besides, we get free meals their with the "Crown Club" that came with the purchase of our new coach.
Their RV Park is "okay", but a bit crowded for me. Besides it being a free stay, we also wanted to relax in the hot tub. In addition, we had some registration papers to pick up from them, In addition, our purchase included a free 90-day trial of the Thousand Trails RV Park membership system. If we liked the program, they would waive the $7000 initial registration fee for us to join the Thousand Trail system, only paying the $500 annual dues. We selected the West Coast zone, knowing that's where we spend most of our time. If we decide to join, we figure we'll need to use their parks at least 21 days a year to pay for itself. Once you're a member, stays are free. Our rules allow us to stay 2 weeks free, then out for a week, than back into any TT park free for another 2 weeks. We could repeat this system all year. If someone uses these parks, it could be a great deal.
Part of the free 90-day trial included for us to go to the nearby Thousand Trails park in Orlando for a sales pitch. We head there after Tamps and spent our 3 days there free. Nobody bothered to give us a pitch, so it was just a nice free 3 days of relaxing. However, we had some satellite Internet problems that I worked on for those three days. We also had a new tow bar delivered to friends, which we picked up and installed. We then headed to Kings Bay Submarine Base in Georgia. This Navy campground had recently won an award for the BEST Military Campground in the Eastern USA. We wanted to stop by to see the place and congratulate them. We also met friends Bob and Joyce again and had another great time. We can see why this RV Park won the award. We then headed further North in Georgia to visit the camp hosts at Holbrook Pond Campsite at Fort Steward. Dock and Lori were great. It was rainy during our visit and the trees blocked our satellite Internet. After spending a night there, we headed West to Fort Benning and stayed at the Uchee Creek Recreation Area. A real nice park, but it snowed on us there. The next stop was to Robins AFB, GA. We had only planned to spend one night there, but stayed two instead. They have a great Air Museum open to the public.
We had then planned to go further North to Huntsville, AL to visit the 2 campgrounds at Redstone Arsenal. However, the weather wasn't great. So we decided to go directly to Red Bay, AL, where the Tiffin motor home factory is located. We were going there anyway for some minor fixes on the new motorhome. We knew we would have to wait there for a few days to a week, since we didn't have an appointment. While waiting, we took a day drive to Redstone Arsenal to review their campgrounds. Luckily, we didn't have to wait very long at the Tiffin factory. They got our punch list of items to fix done in one day. We only spent 3 nights there. I also got to visit the factory again, paying closer attention to the construction of a Phaeton.
While some of the items we wanted fixed may seem minor, we still wanted our new home to be done right. Here's the list of what minor problems we had and what Tiffin did to resolve:
Some of the molding wasn't stained on the backside - Tiffin stained it. Possible water leak from the show - they couldn't find anything, but re-sealed around the plumbing.
Dented and chipped paint on the hot water cover - they painted and install a new cover.
Bedroom ceiling fan made noises (harder to sleep) - they installed a new, quiet fan.
We had a cracked floor tile - they replaced it.
Leveling jacks were making a popping noice - nothing was found. They think it was just the new air bags. We've never had the sound again.
While staying at the Tiffin factory, it had snowed and rained. On the day we were to move into the service bay, there was over a inch of ice on the slide-out toppers. Larry crawled (and slid) all around the roof breaking up and removing the ice. Way too cold!
After leaving Red Bay, we returned to Florida to visit friends Ruth and Jim. We stayed at the Pensacola Naval Air Station RV Park. While there, we also visited and reviewed 4 other military campgrounds in the area. At least the weather was much nicer. Finally, we left Florida and spent the night at Keesler AFB in Mississippi, then headed to New Orleans. We checked into an unknown military campground at the Naval Air Station in Belle Chasse, near New Orleans. We found the RV Park and spent the night. Not much there, but we can add this information to our U.S. Military Campgrounds and RV Parks website. after a night there, we headed North again to Barksdale AFB in Bossier City, LA. We were looking forward to spending a week sitting still, as all of this driving wasn't our style. That's what we get for staying ifn Florida longer than planned. While at Barksdale AFB, we visited many of our old neighbors and friends Connie worked with. We were stationed here from 1992 - 1997.
The next destination was Southeast to the Escapee RV Club headquarters in Livingston, TX. This is legally our "domicile" address. We came back to Livingston to register the new motor home. Part of the registration process involves getting a safety inspection. This turned out to be a very emotional day! When leaving the inspection station, there was a big dip from the parking lot to the street. We scrapped bottom of the motor home preyy hard. When we got back to the RV Park, we wanted to cry. We (Larry) had ripped up the large, fancy mud flap. While still attached (barely), it was bent, ripped, and just mangled up. Our only choice was to remove it and through in the dumpster. Oh well, everything else seemed fine. I was fearing we had also scrapped the body and paint. We left Livingston with our license plates and headed to Fort Hood and their RV Park. After spending only a night there, we stopped in Frederickburg at our favorite German restaurant. Yum! Another great meal! Since it was still early in the day, we continued driving for a couple more hours. For the past couple of weeks, we had really been pushing it. We're not used to all of this driving. But we wanted to spend some time in Arizona and California before we had to start our Summer jobs in early April. We spent the night in a Texas rest area. The next day, we drove to the Fort Bliss RV Park, TX. Our other reason for coming here, other than to review their campground, was to get military vehicle decals for the motor home. After a one night stay, we drove long and hard to Tucson AFB, AZ at the Davis-Monthan AFB Family Campground, which is where we're at now. We met friends Rod and Ardith last night and enjoyed a high-class meal at the "chow hall". Actually, it wasn't that great. Today, we're going the last couple of hours to spend a week near daughter Cynthia near Queen Creek, AZ. For the past coiuple of weeks, I've had tons of packages shipped to her. I hope to spend the days in the sunny weather finishing installing the solar panels and some other improvements on the new Phaeton. The satellite Internet system has also still been giving us problems. Mainly, the signal strength is extremely low. I'll try to resolve this during our stay there and have also purchased a new Feed Horn.
We have about 4 weeks before we need to start work in Northern California. Although we've been rushing and driving hard these past couple of weeks, we can now breath easily. We plan to spend a week or so with Cynthia, a week in Southern California near Connie's parents, then take a relaxing weeks to get to Northern California. We might take advantage of those free Thousand Trails parks we still have on our 90-day trial.
March 26, 2010 - SeaBreeze RV Park, Seal Beach, CA: We only spent one night in Tucson then headed to San Tan(Mar2010)" title="Phaeton Solar System">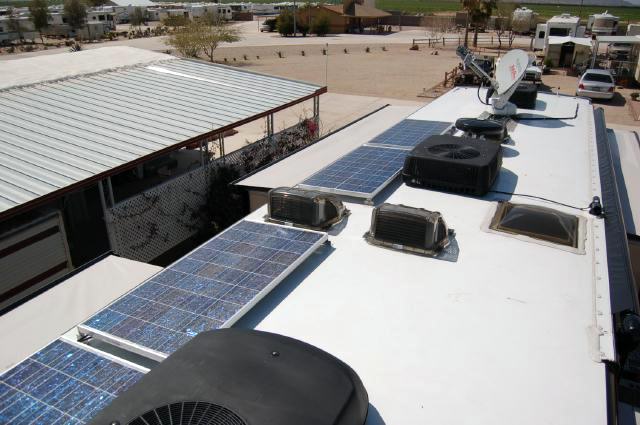 Valley to spend some time with daughter Cynthia. We stayed there for a week visiting with Cindy and meeting her new boyfriend Ron. We had LOTS of packages shipped to Cindy's house, which worked out well for us. This was mostly parts to finish installing the solar system removed from our old motor home. During the week, we got the solar panels wired and operational. Having done it before, it was a fairly easy job. The most difficult part was crawling around under the motor home running the wiring. You can read about our solar installation here.
We also received the "Feed Horn" for the satellite system. The old horn had condensation inside it, which effects receiving the satellite signal. However, when trying to remove the old feed horn, a screw broke off. Oh well, next step is to also replace the entire transmitter. I had been previously told my transmit power was low. We had replaced the transmitter once before with a used one, but discovered we didn't need it. That purchase was refunded. So now I'm back buying another transmitter. We had it shipped to the RV Park in California (next stop). The rest of our week visit was spent with a quick doctor visit, some more shopping. The highlight was having dinner with Cindy and Ron a few nights. One night, we also had geocaching friends Cody and Cheryl (team CBX2) join us for dinner and games. We also visited with Jan and Al Schwartz for lunch, who we worked with at our first workamping position almost 5 years ago. We also spent the afternoon with Connie's grandma Cappie.
After a week of visiting friends and relatives, we moved to Yuma, Arizona. We stopped there for a couple nights to celebrate RV friend Dan Shepperd's 60th birthday. We met Dan and Jenny over 7 years ago when we attended our first Escapee RV Club Rally. Dan and Jenny made us feel very welcomed and took us under their wing to show us around and introduce us. We attended the rally as part of our Boomer group. The birthday party was fun, with over 40 other RV'ers helping to celebrate.
Next stop was at the Navy Weapons Station in Seal Beach, CA. This military RV Park is real nice and reasonably priced for this area. It's also very convenient for us, being near Connie's parents and brother. We planned to stay a week visiting family and installing the satellite transmitter. Well... there was shipping problems with the transmitter that delayed our departure. Luckily, the Internet satellite system has been working great. We decided to stay another week here and wait for the package to arrive. We figured we need to get the Internet system functioning reliably before we head into the mountains for our summer jobs.
We got the new transmitter installed. Looking at the old transmitter, the condensation had dried up, which explained why it had been working good all week. Hopefully, the new transmitter will remain dry and have more power. Also during this past week, we had friends Steve, Joannie, Janie, and Barbara over for dinner. We met these wonderful friends a few years ago while we were camp hosting at Huntington Lake. They were campers that we've kept in touch with. We also had Connie's brother and family of 6, along with her parents out for an afternoon of games and dinner. With a group this large (and young kids), we spent most of our time outdoors. Unfortunately, the breeze made for a cool afternoon.
Larry also spent a couple days finishing the installation of the solar panel system, the remote display panels, and installing a new "Extend-A-Stay" propane adapter. All of the planned modifications to the new Phaeton motorhome are now completed, except one. We still need to find the parts to install a propane quick disconnect for our portable gas heater. Using this "Wave 8" propane heater doesn't use any batteries, which is great when we in cold weather without electrical hook-ups.
Tomorrow, Connie is going to a benefit fashion show with her mom, then we'll all go out for dinner later. We need to get to the Tahoe National Forest within a week and plan to leave in a couple days. We'll stop in Coursegold, Ca for a couple days to pick up some company supplies and an additional company truck. Then we head to Indian Valley campground along CA Hwy-49. Our winter "vacation" is coming to an end, but we're looking forward to our fun summer jobs.