11/19/08: Queen Creek, AZ: Other than a long day traveling back home, our return trip from Jamaica went without incident. Connie spent some time watching our grand daughter Kaylee. But our return from vacation was well timed, as just a few days after returning our eldest daughter gave birth to our second grand daughter. Welcome to the world Khloe Mae Smith! Her birth went smooth and all is great. Here's a couple photos of Khloe after only a few hours of birth.
| | |
| --- | --- |
| | |
11/11/08: Runaway Bay, Jamaica: Lately, we've (sort of) been following a daily routine. The mornings have been busy with Breakfast, then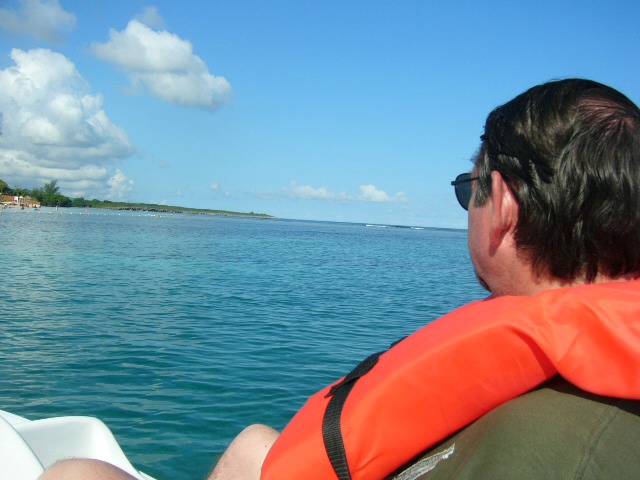 laying around the pool and reading, with an excursion out in a glass bottom boat one day, and trying the paddle boats on another. The glass bottom boat was fun, but was mostly a waste of time. A hurricane passed by here recently (45 miles away) and the ocean is still fairly murky. We couldn't see anything in the glass bottom boat. After our morning of fun in the sun, we'd have lunch. Normally, this was at an outdoor patio with lunchtime entertainment. I've included a 1 minute video of our lunchtime reggae band. By this time of the day, we're fairly hot and seek out the air conditioning back in our room. Either it's more reading, catching up on the Internet, then usually a nap. Before we know it, we're getting ready for the evening which consists of spending some relaxing time at the lounge bar, then a nice dinner. We've been to three of the four available ala carte restaurants. One was "lousy, one was "okay", and one was "great". We still have the "Mikano" Japanese restaurant to visit on Friday. We're also going back to the "great" restaurant another time.
11/9/08: Runaway Bay, Jamaica: For the past 9 days, we've been on vacation in Jamaica to celebrate our 30th wedding anniversary. We're staying at the Grand Bahia Prinicipe resort in Runaway Bay, Jamaica. This is an all inclusive resort and we're loving it. The weather has been warm and humid, with many days of partial rain. But that's not stopping us from getting out and enjoying this friendly country and doing some site-seeing. We found a great price on this all-inclusive package on the internet. We didn't have any particular location we wanted to visit, but knew we wanted to go someplace we'd never been to before. After working all summer, we wanted a vacation. For a little over $200 a day, we got round-trip airfare from Phoenix to Montego Bay and back, plus the 4 star hotel, plus all meals, plus all drinks (including all alcohol).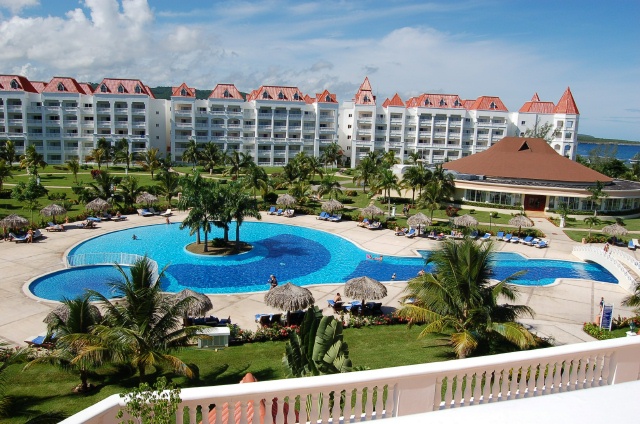 The resort is wonderful and large. Besides the buffet open for all meals, there's also 4 "al a carte" restaurants we can choose from. We're limited to 3 of the special restaurants per week and reservations are required. We've used 2 of our 6 "special" meals last week, and the remaining 4 meals are coming this week. The "Fisherman" restaurant wasn't very exciting, with porr service and "okay" meals. However, the "Garden Grill" steak dinners were very good. The buffet is where we eat for all other meals, and it's been pretty good. Ther service here is fantastic! From 10:00am - 11:00pm, the bars are also open. There's swim-up bars in the pools and a couple bars at the lounge overlooking the property. Although there's unlimited drinks, we have yet to see anyone get drunk. Everyone is well mannered here. We're enjoying trying different bar drinks, as the menu has over 3 dozen mixed drinks to select from. Lately, "Rum Cream" has been a favorite.
Our room is spacious and with a great view of the pool, gardens, and ocean. I know, the photos look like a post card, but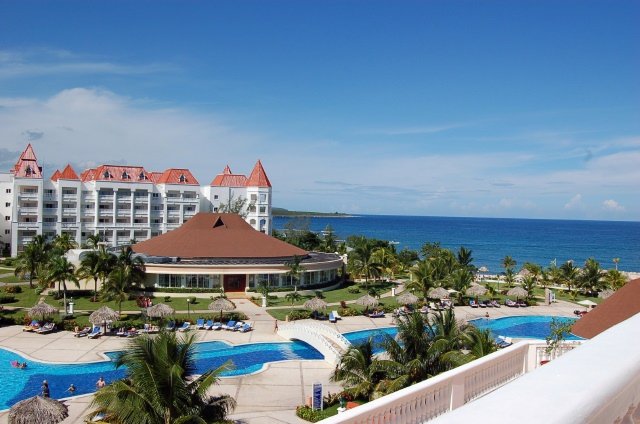 these are our photos. We were pleasantly surprised to find a "whirlpool" bathtub in our room, with a separate shower. Living in a motor home makes us enjoy our baths and long, hot showers much more.
The resort offers plenty of water sports, with many large swimming pools and activities all day. There's also snorkeling, kayaks, sailboats, wind surfing, and more that is included with the hotel. Scuba diving and glass boats are also available for small fee. Of course, there's plenty of optional tours to select from, or we could rent a car. While it's possible to spend your entire vacation busy at the resort, we're in Jamaica! Let's go see some of this small country! We already took a couple day trips. While we thought of renting a car and getting out by ourselves, the crazy drivers and narrow, winding roads changed our mind.
Our first tour was a long one, lasting 13 hours! We were taken through the mountains on narrow, windy roads to the south side of the island.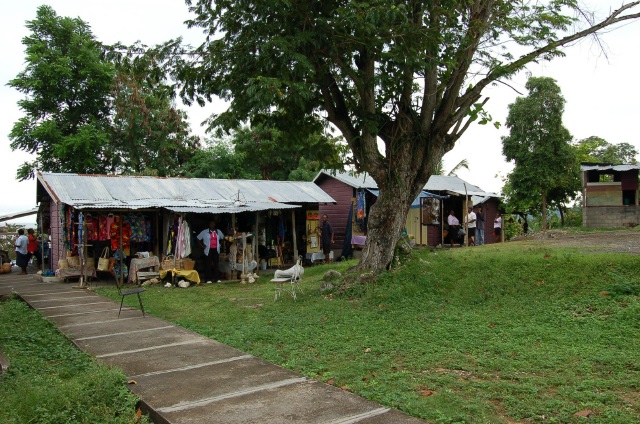 We visited the Appleton Rum Factory and sugar cane fields. The tour was interesting, as I had no idea how rum was made. We tasted sugar cane juice, the molasses made from sugar cane, and we were allowed unlimited samples of almost a dozen types of rum that they produce. The tour continued and took us to the YS Falls. Yes, that's the correct name for these beautiful falls - YS. This popular tourist stop allowed guests to "walk around" in the falls for photo opportunities. There was also a "zip line" ride you could take down the mountain above the falls. Jamaica is a small island consisting mostly of mountains and is a huge rain forest. The vegetation is EXTREMELY thick! What I find interesting is that Jamaica has been an independent country for less than 40 years. They won their independence from England in 1962. WOW! Although this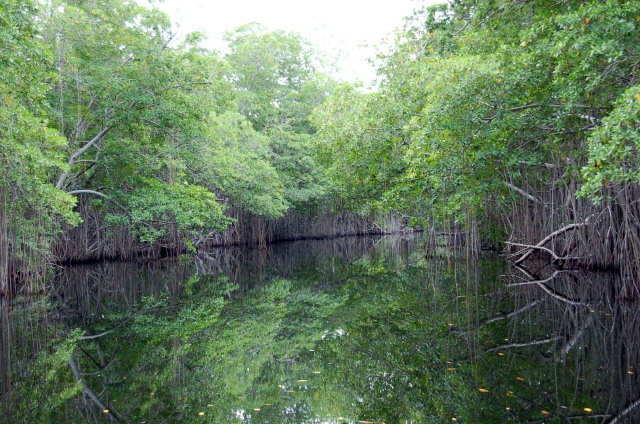 young country is still getting used to being independent, the people are very friendly and have a wonderful attitude. "No Problem" is the answer to everything. While still mostly a poverty country, it appears they're going in the right direction. After the YS Falls, we stooped for lunch and took a boat tour on the Black River. We saw crocodiles along the river, and a scenic section of Banyon Trees. It was a long day, mostly driving through the country. But we saw over half of the Jamaican island during that tour. To make the day longer, we had a 9:30pm dinner reservation at the resort.
A few days later, we took another tour, although a little shorter. This was meant to be a "shopping trip" to the nearby city of "Ocho Rios". While Connie appreciated the chance to do some shopping in Jamaica, I disliked the shopping portion of this trip. We were first taken to a craft market with very aggressive and pushy merchants. They mostly had cheap junk and wouldn't leave us alone. We were then taken to a small shopping center, but pushed into a select gift shop. Of course, they were aggressive also trying to pawn off their gifts. I felt as thought the tour operators were getting a "kick back" for bringing tourists to these specific shops. Once the shopping portion of the day was over, we did get a tour of the Wassi Art pottery factory and a drive through Fern Gully. Both of these were interesting, although nothing special. It was just nice to get out and see more of the Jamaican life. The highlight of this tour was another tourist area at Dunns River and Falls. What made this spot unique and popular was the climb up the falls. Tour guides lead groups into the river and up the falls for about an hour. They made the hike very fun! The falls where pretty interesting also. Since we got extremely wet climbing the falls, I didn't get any photographs. However, we "bought the movie" instead. I know it's just another tourist sales gimmick, but they took a video of out day long tour. While portions of the video show the first part of the day, most of the video is of the Dunns' Falls climb. We had so much fun that afternoon, we wanted to re-live the moment in the future with the video. I plan to covert this video and place it onto the web soon. Stay tuned....
We'll be here for another week and don't currently have another tour planned. But you never know. We're starting to get a little sun burned, as we've been out by the pool and beach almost everyday. After lunch, we usually take a nap (or I catch up on the computer) then head to the lounge for a few cocktails before dinner. We're having so much fun here that we're already talking about a future trip. The Bahia Principe Resort is a chain of hotels. Their resort in Cancun, Mexico has caught Connie's eye for a future trip. Of course, it's another all-inclusive hotel.