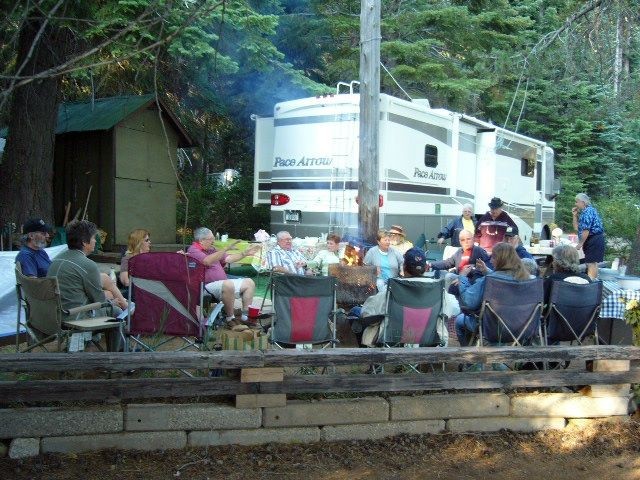 08/10/08: Kinnikinnick Campground, Huntington Lake, CA: Business is as usual around here, except we're all starting to get an "end of season" attitude. Because of this, we're holding a pizza party/meeting to re-motivate the employees and remind them to provide quality customer service to the campers. Sure, we're starting to get burned out and are tired of the few troublesome campers, but we can't let it affect us.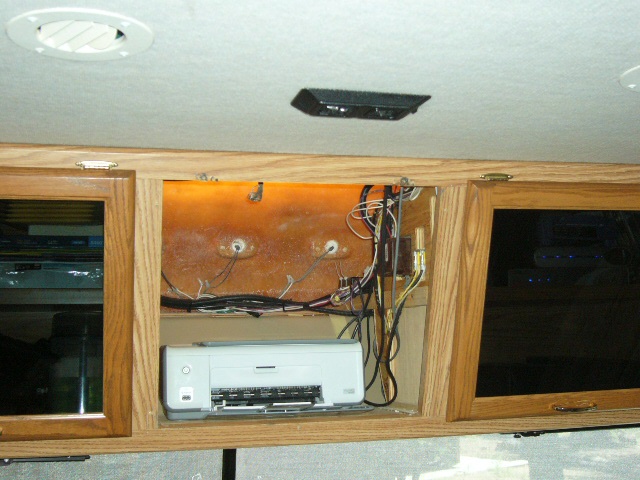 The renovation project has come to a crawl while we wait for the new captain chairs to be delivered. It's going to be another 3 weeks for the chairs. We did remove the old television from the overhead cabinet. Due to space limitations, we carried our computer printer on the dash board. It never looked good, but was convenient. With the overhead TV removed, we plan to place the printer up there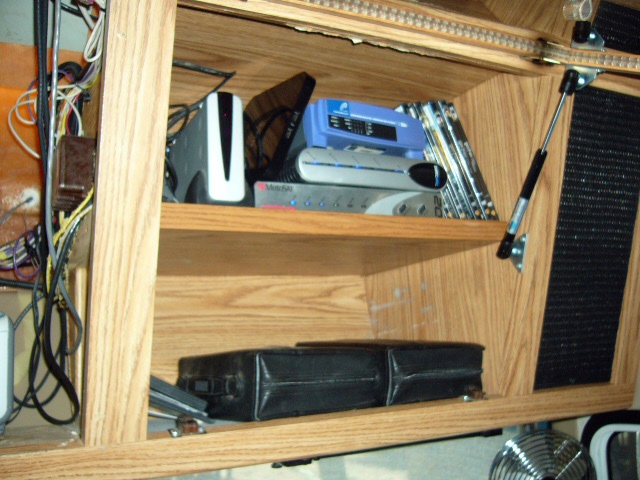 on a wireless connection. Since this isn't a wireless printer, we purchased a Network USB hub. The printer plugs into this hub which is plugged into our wireless router. The result is the printer is now wireless. We can add another 4 USB devices to this hub and make them wireless on the network., Hmmm... perhaps the external hard drive. While we plan to finish off the interior of this cabinet, the attached photo shows the printer moved to the new location. Since the DVR and DVD/VHS player was also moved to the new TV stand, we moved the remaining electronics (Internet) to the top shelf of the "electronics" cabinet.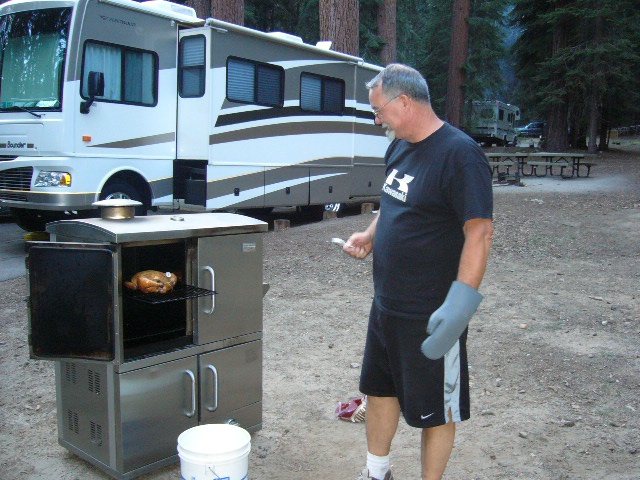 We continue hosting a "social" every Sunday evening. It's a casual event with 2-12 people attending. The employees have been
having potlucks about every 2-3 weeks. It's great to see everyone involved with each other. Connie's also been "mixing" it up with the campers. She's received wine, breakfast, lunch, and dinner from campers. Recently, a camper brought a huge smoker to the campground. Connie was invited to use it, and did she! We smoked a chicken, then splurged and smoked a stuffed tri-tip. Yum!