8/27: Lake George Escape Camping Resort: Many of the workers are getting a little 'slap happy', since most of them are leaving next week. We hope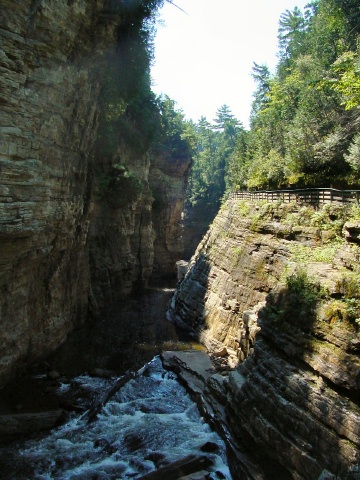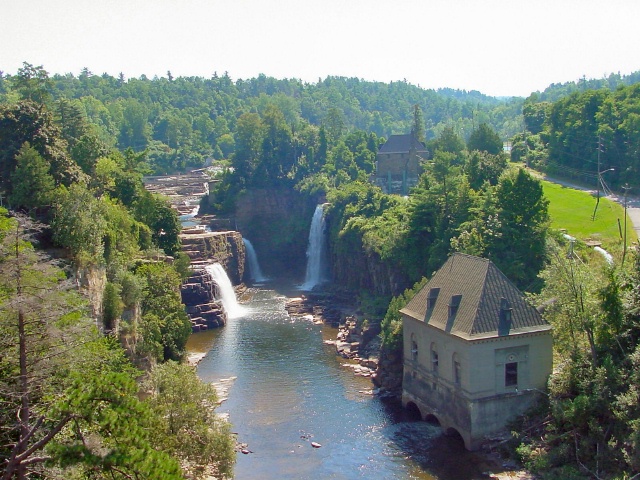 we'll only be working a few days each week in September. This will give us time to visit some of the places we came here for. Niagara Falls, Montreal, and New Hampshire/Maine are on our list. Today we headed back North to a tourist spot, advertised as the oldest natural tourist site in America. The AuSable Chasm is celebrating their 135th anniversary this year. Unlike many of the other tourist places we've visited, this place was almost worth the $24 admission.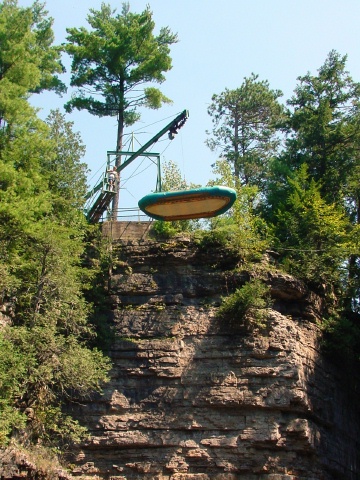 It's a natural chasm carved into the granite by the AuSable River. We hiked along and down into the chasm along very narrow trails. After the 45 minute walk into the chasm, we also had a 20 minute raft ride down the river through the chasm. It was interesting to watch them lower the raft down to into the river. Unfortunately, the river is very low this time of the year and the trip was pretty mild. We still had fun, but wished we had come here back in June. Afterwards, we headed towards Lake Placid to drive up on Whiteface Mountain. We missed this drive when we were here last month. Whiteface Mountain was used in the Winter Olympics in 1932 and in 1980. It's the fifth highest mountain in the Adirondack Park, but the highest that you can drive to the top at. The peak is only a little over 5000', which isn't that high compared to mountains in the West. But it's a big deal in New York. To get to the peak, you can either hike up the slippery and rocky trail, or take an elevator up. We chose the elevator, which involved going in a 475' tunnel into the mountain, then a 280' elevator ride straight up inside the peak. Since we took the easy way up, we hiked down the trail and were glad we took the elevator up. It was another beautiful, fun, and memorable day. Check out the 360 °panoramic view from the top of Whiteface Mountain. From here, you see Lake Placid and numerous other local lakes - even into Canada.
8/21: Lake George Escape Camping Resort: Larry was one of the 3 Halloween costume contest winners! As "Merlin", he won $25. Connie also deserved to win, but it wouldn't look right for 2 of the winners coming from the same family. Besides, Connie did win - she made the costume to begin with. The work week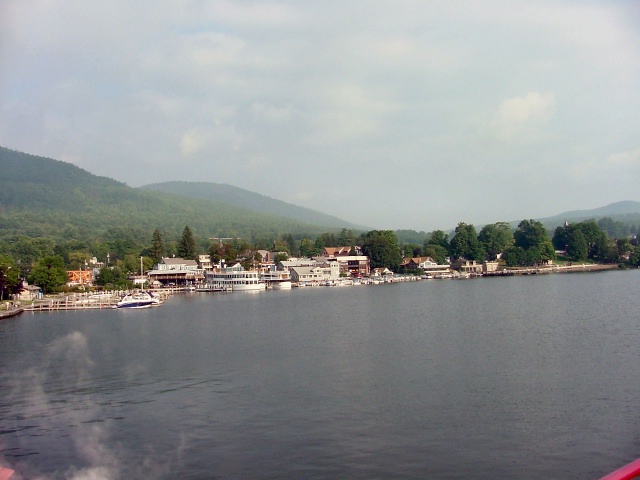 went by quickly, and so has our weekend. Today, we finally made our 64 mile round-trip on Lake George. We took a 4½ hour cruise along the shores of the lake. It was interesting, and scenic, with the captain narrating most of the trip. Almost half of the coast has been declared "Wild Forever",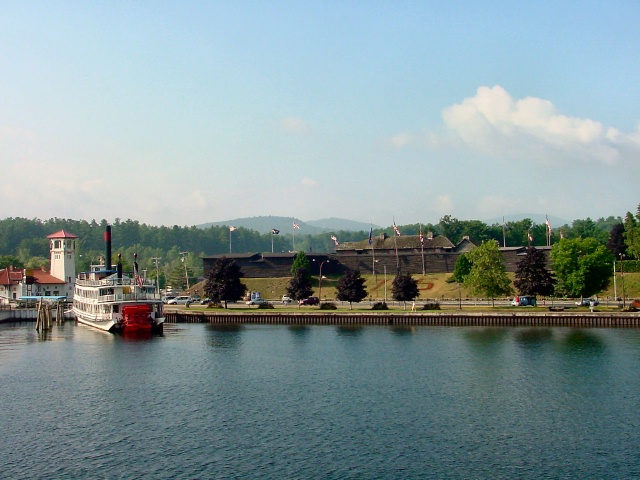 which means it will never be developed. The other half is almost all privately owned, mainly by millionaires with their "summer" homes. The lake has over 200 small islands, with over 180 of them owned by the state and opened for the public for picnicking, or camping. Only reachable by boat, some of the islands have up to 90 tent campsites, while many of them only have a single campsite on them. Wouldn't it be "cool" to camp on your own private island for the week? Lake George has a lot of history with the French and Indian war, and the Revolutionary war. The movie, "The Last of the Mohicans" was based on the Lake George area. Except in the movie, it's called Lake Horican. Along with Fort Henry and Fort Edwards, the movie is somewhat based on a true story during the French and Indian war (actually the French and British war for territory). Lake George is referred to as a "pure water" lake, as there are no water inlets to the lake. The lake is fed by underground springs and small springs from the surrounding mountains. No rivers feed the lake. Lake George does flow out into the La Chute river, which flows North down into Lake Champlain. Eventually, water from Lake George ends up in the Atlantic ocean.
8/14: Lake George Escape Camping Resort: Many workers around the park are starting to get "short" attitudes. Not bad attitudes, just a lot of talk and excited looking forward to the end of the season here. Everyone has had a ton of fun, but are tired and ready to move on. We don't seem to be so tolerant on guests that complain for minor issues. But this is also partly because the park has been almost 100% full every night. There's not much we can do when they want to change sites. It's hard to imagine this large 600 site campground being fully booked so much. Especially when a plain tent site can go for almost $70 a night! A fully loaded RV site goes for almost $90 a night!!! And we're not the most expensive RV park in the area, either.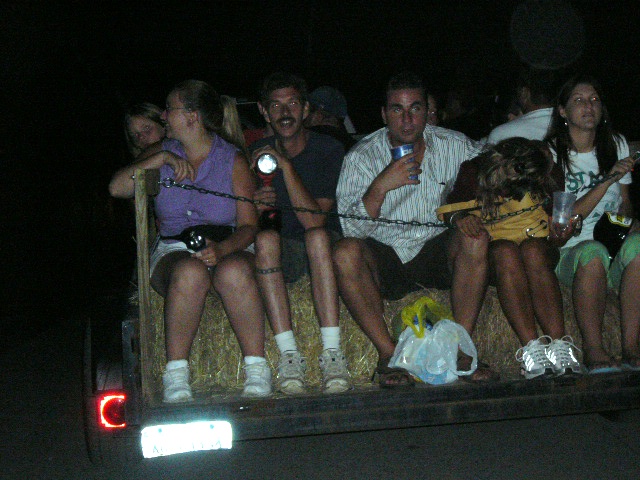 This past week's theme at the park was "Halloween". Again, a ton of decorations are placed throughout the park. But the peak was last night. Many guests were dressed up in costumes, they decorated their campsites, the workers were dressed up, we had a large Halloween party, and over 300 people rode on the Haunted Hayride. Everyone really got into the theme and had fun. Workers that dressed up were competing in a costume contest, with 3 winners of $25. Connie dressed up in her "Pandora" clown outfit, and Larry was "Merlin". We think we were in some of the best costumes, so we'll see if either of us win.
8/7: Lake George Escape Camping Resort. We enjoy getting Email from readers, so please keep them coming! Many times, we're told or we tell others, "Hope to meet you on the road somewhere!" But how would we know each other? Problem solved! Just look for the large lettering on the front and back of our motorhome saying "The Happy-Wanderers". If you see us, please stop by and say "Hi"!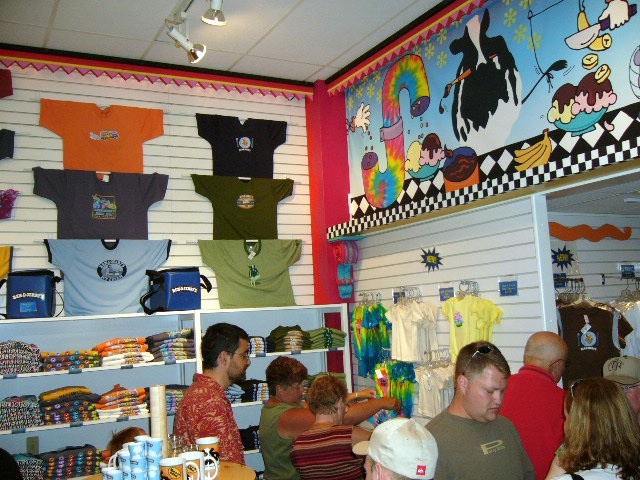 Since the weather has been beautiful lately, we took a nice drive for a picnic in Vermont again. This time, we headed for Waterbury, VT, to tour the "Ben & Jerry's" ice cream factory. We enjoyed the $3 tour, but felt rushed. Also, since we visited on a weekend, the production line was closed. But the samples were delicious! Further up the road, we visited the Cabot Cheddar Cheese outlet store. Plenty of good samples there also! To top off the day, we also stopped at the Cold Hollow Apple Cider Mill with more tasty samples.
8/2: Lake George Escape Camping Resort. We've been stationary here for 3 months now and are starting to get "hitchitch". This is the itch we get when we're ready to hitch up and start moving again. The job is still fun and we're being treated great. So our itch isn't work related - just the need to move on. However, we were recently invited to stay here until the campground closes on October 10th. We would only work 3 - 4 days a week, still have a free site for the month, and be off 3 - 4 days a week. We had planned on roaming the Northeast states to see the fall colors, and still will. Except we accepted their offer and will use this place as a home base. During that extra month here, we'll visit Niagara Falls, Montreal, and take trips into Massachusetts, Vermont and New Hampshire to see the fall colors and other local sites. Instead of taking the motorhome, we plan to just take the Jeep and stay in hotels. Sort of like mini-vacations without the cooking and cleaning.
We also heard back that we've been hired for our Christmas positions. We'll be managing a Hickory Farms kiosk in the Mary Ester shopping mall near Ft. Walton Beach, Florida. We already committed ourselves to stay here in New York until October 10th before we knew the exact dates Hickory Farms would want us. Managing the kiosk is only from November to the end of December. We had planned to spend the month of October slowly traveling south. However, training for Hickory Farms begins the middle of October. So now we'll need to travel everyday for a week. It's less than 1500 miles, so we still won't need to drive more than 300 miles in any one day, if we don't want to. This just isn't our normal slow pace we like to take.
Last week's theme in the resort was "Mardi Gras Madness". So Connie and workamper friends Joe and Grace Morvant, hosted a Mardi Gras potluck for fellow workampers. Joe and Grace are from Louisiana and made some great Gumbo and spicy potato salad. Connie made rice, Cajun black-eyed peas, and a king cake. "Eye-Eeee", we had some good food at the potluck!