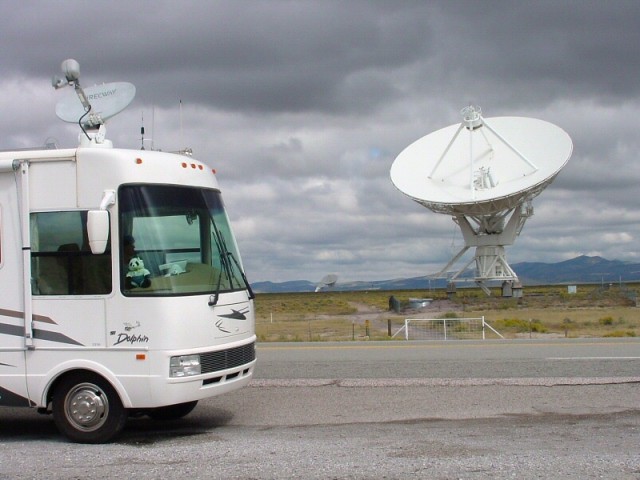 9/30: We've met up with 9 other Boomer families and are now parked at the Albuquerque Hot Air Balloon Fiesta. We're parked right on the edge of the primary landing area for the balloons with our huge front window facing the landing area. Although there were a few hot air balloons flying this morning, the scheduled events don't start until tomorrow evening. We'll attend "chase crew school" tomorrow morning. We're excited about helping inflate and chase the balloons (actually, we're only chasing a specific balloon, sponsored by Monaco Coach). We've met some of these fellow Boomers before, and we're already hitting it off well with all of them. It's fun as we proudly announce we're new full-timers of three weeks. We know we're in for a fun, and tiring week. I'll try to take plenty of pictures and will post some here soon.
9/27: As we climbed above 7500' in altitude, the weather turned a little cold. We found a nice BLM campground near Datil, NM. For only $5 a night, we had a spot at the top of the hill with water, table, trash, and pit toilets. It did get down to near freezing at night, but was pleasant in the morning. We took a good 3 mile hike up the surrounding hills with wonderful overlooks. However, by noon it was getting dark and we could see the thunderstorms rolling in. After spending a couple days in Datil, we headed for Albuquerque 112 miles away. Along the way, we stopped at the National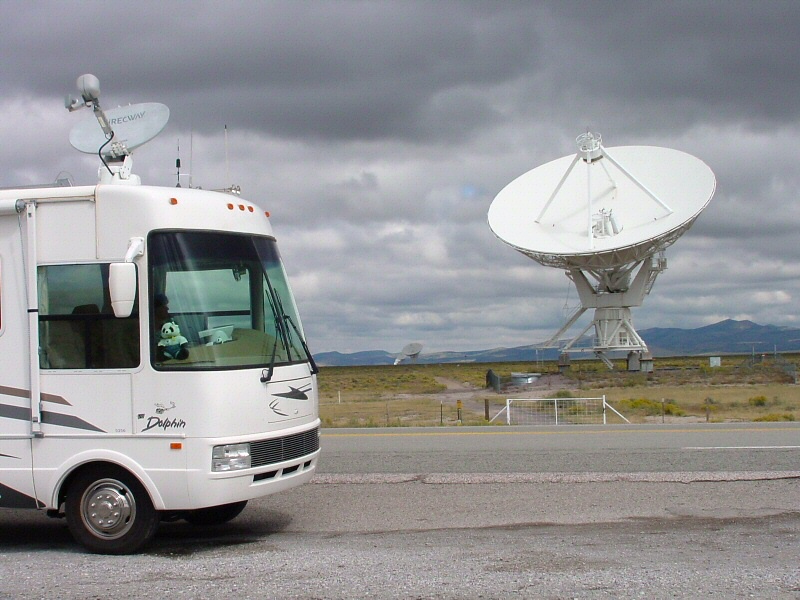 Radio Astronomy Observatory Very Large Array (VLA). This array of 27 giant dish-shaped antennas work as a radio telescope. Working together, they make a "picture" of astronomical objects from radio wave signals. The visitor center and walking tour was free, and was pretty interesting. Most people would recognize the VLA from the movie "Contact" with Jody Foster. In reality however, the VLA isn't, and can't be used to find alien contact.
We arrived in Albuquerque yesterday. We're staying at the Kirtland AFB Family Campground for 4 days. We're using this chance to take care of chores (laundry, finances, shopping) and just relaxing. It's almost noon, and Connie is still in her pajamas. She's been having fun cooking different things this morning. The campground is full - we were lucky to get the last electric only site. When we leave here, we'll have full batteries, a full water tank, empty sewer tanks, and we'll be ready to dry-camp at the Hot Air Balloon Fiesta for 12 days.
9/24: After visiting with Larry's Dad in Prescott, we found a nice boondocking spot near Cottonwood, AZ. We find most of our boondocking spots from the DaysEnd listing. This listing can be purchased for a few bucks and is advertised in the Escapee magazine. This is a nice flat spot in the Coconino National Forest with wonderful views of the nearby mesa's and buttes. After staying only 1 night, we spent the next night dry-camping in a free campground at Scott Reservoir near Lakeside, AZ. Unfortunately, we don't get local television stations yet, so we missed the Survivor show. To us, boondocking is staying someplace without any electric, water, or sewer in open country (forest, BLM, etc). Dry-camping is doing the same thing (no hookups), but in a campground that is free. We generate our own solar electric (or have the generator if needed), can carry 90 gallons of fresh water, and can store 100 gallons of waste water. So we prefer boondocking with dry-camping coming in as 2nd choice. But we'll admit, it is nice to have unlimited electric and hot water at times. Today, we'll head East into New Mexico and find a place to stop in the Cibola National Forest.
9/21: Just because we're footloose and fancy free, doesn't mean we aren't kept busy. We recently spent 4 days with friends, Dale & Marion Riggle, who have been full-timing for 16 years and are geocachers as well. We stayed with them at their Happy Trails RV Resort in Surprise, AZ. A wonderful time was had by all. Especially Connie talking cooking with Dale & Marion. Good food and good company. Life is pretty rough here. We're now in Prescott, AZ staying at the Granite Basin Campground for a couple days. We're visiting with Larry's Dad and went geocache hunting today. The weather is cool up here - a big change from the Phoenix valley.
9/14: We're at Lake Pleasant Regional Park in Arizona for the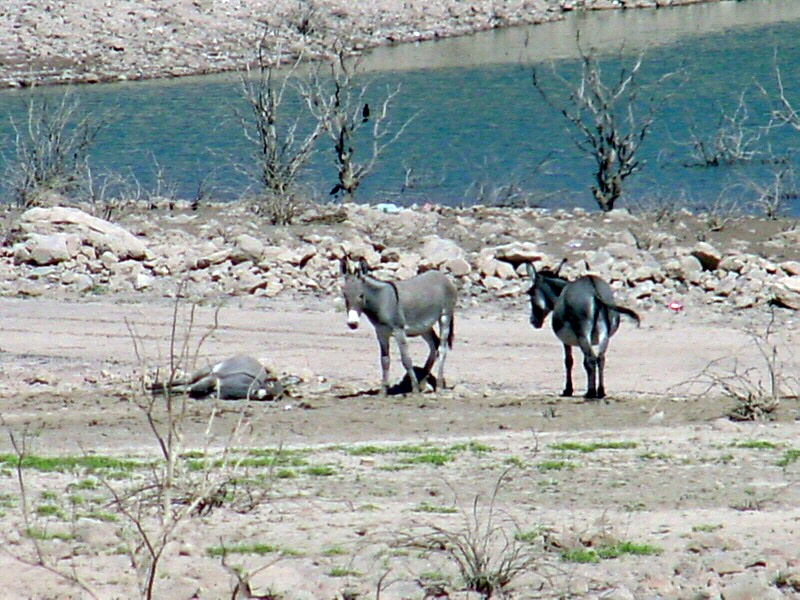 next couple nights. We went Geocache hunting today. Our campsite is on a small hill, over-looking the lake. We're relaxing in the air conditioned motorhome, as it's over 95 degrees outside. While I'm working on the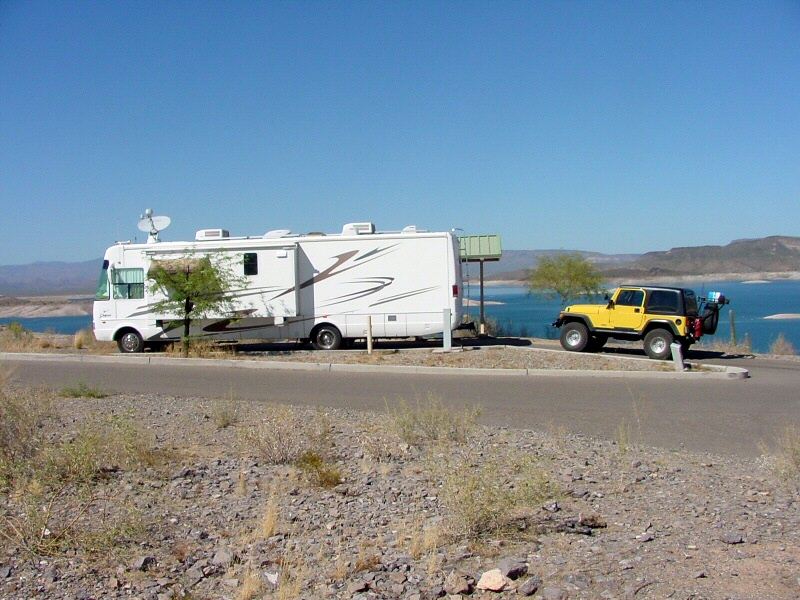 Internet, Connie is watching a cooking show on our new satellite TV. Just now, she exclaimed "WOW!" She was watching the television and turned her head. She saw the magnificent lake view we have out our window. I just told her, "Get used to it - this only the first of many magnificent views we'll have out these windows". I think we'll like this new lifestyle.
9/13: With all of the preparations of selling the house and "stuff", we didn't have the chance to get away.... until recently. But now we're away FULL-TIME! If you haven't already, you can read about our preparations to go fulltiming in our RV in this article. We moved into the motorhome a couple weeks ago, while we finished cleaning out the house. Then we closed on the house and started our travels 5 days ago. Since then, we were going to spend a couple days at our daughter's house, but it wasn't safe. Although closed until next month, we called Schnepf Farms campground and they 'let' us come spend a couple nights there for a mere $20 per night (but that included full hook-ups). It's only 2 miles from our daughter's house. Then we moved to Satellite Advantage and stayed there for a few days while our MotoSat 2-way Internet satellite dish was installed and tested.
<We've already had our first problem with the RV. A smelly one at that. The toilet was leaking around the base. Luckily, it was a simple fix. It seems the 4 bolts holding the toilet to the floor came loose and was leaking. Connie has also decorated the RV with some pictures and decor from the house, so it feels more like home.