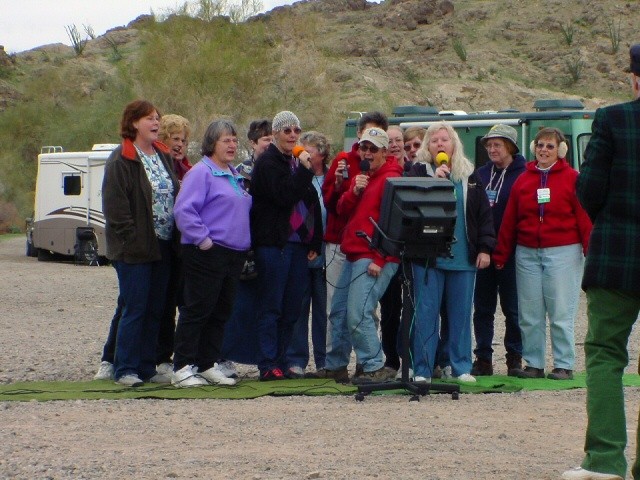 12/31: We've been having a great time here. More people have been showing up daily. Being New Year's eve, we had a Karaoke party, then a "get to know the Boomers" game, called Z-circle, and finally our New Year's party. These people know how to party! Connie loves karaoke, but has only done it once last year with the Boomer's group in Quartzsite. She's been looking forward to this all year. She sang in almost 33% of the songs. For the game, which really isn't a game, we broke into groups and visited with two other couples in their rigs for 45 minutes. We rotated 4 times, allowing us to spend semi-private time with 11 other couples. It was a good way to get to know other people.
12/29: There's been over 29 Boomer rigs here on top of a small hill, overlooking Mittry Lake. We have a nice spot close to the group, yet away from the generator noise. There's room for Gidget to run around without being tied up. Gidget, our daughter's dog, is staying with use until early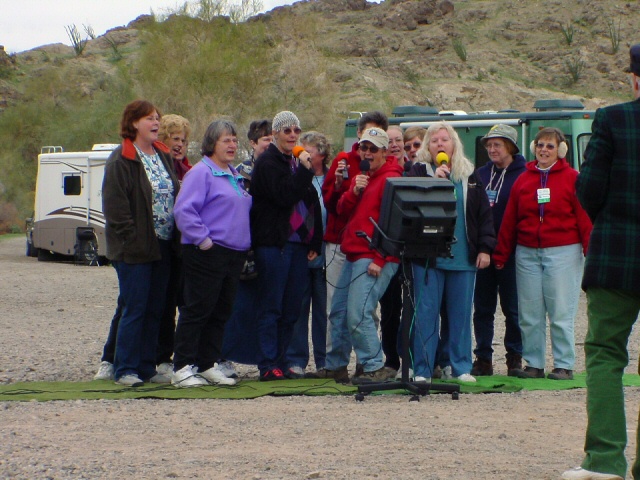 February. She loves camping and the outdoors, so we thought we would bring her with us for our winter in the desert. Besides her shedding tons of hair, she's a joy to have with us. The weather has been cool and overcast, with some rain mixed in. But it's mild, compared to what we had in San Diego a couple weeks ago. It actually stays in the 50's and 60's at night. Sun and warm weather is predicted for tomorrow. Maybe I'll get to try out my new portable hammock.
Without the sun shining, our solar panels aren't producing much electricity. Since we're boondocking, we're trying to conserve our use of water and electricity. Also, since it's winter and the sun is low in the Southern sky, tilting the solar panels to the South to face the sun helps them produce a higher output. I've tilted my panels for the first time. During a short period of sunshine yesterday, I saw my panels producing 36 amps/hr of 12 volt DC electric. This is the highest I've ever seen the panels do. I can't wait to see what happens with full sunshine in a day with few clouds!
12/25: Happy Holidays everyone! We enjoyed a wonderful Christmas day with Larry's dad, daughters Cindy & Leslie, and son-in-law Andy. It was a relaxing day, full of visiting and eating (of course). The weather has been cold at night, and sunny but cool during the days. The motorhome and Jeep are all shiny and clean again, with fresh oil and other little fix ups accomplished. However, Larry had a little accident with the main slide-out on the living room. A TV tray got stuck and prevented the slide-out from extending. This made it jump the gears a little and is now crooked. It goes in and out, but is about 2" off on one side. Larry will look at it tomorrow and hopes he can re-align it. Otherwise, we'll make an appointment at the RV doctor in Yuma for next week.
Larry got a portable hammock and is anxious to try it out in the desert. No trees required, as it has a fold-up stand. Stay tuned for a usability report later on it. We're off to Mittry Lake near Yuma, AZ in a couple days. We're excited about meeting up with friends and enjoying New Years in the desert. We'll also be taking our "grandchild" with us for the next 6 weeks. Our daughter's dog, Gidget, loves to go four wheeling and be out in the RV. She now lives with her master, Cindy. But we're taking her with us while we winter in the Arizona desert.
12/19: We're' staying in Apache Junction to visit our daughters. We're also taking this time to clean up the rig and Jeep and do some minor maintenance. It's weird going to their house, as it's mostly decorated with items we gave them. It's comfortable to be around familiar settings.
A couple months ago, we joined the discount camping club "Passport America". It cost us around $40 for the year, and is supposed to save us 50% at many RV parks. We never had the chance to use it, until now. The park we're staying in is normally $20 a night. We got our site for $10 a night, for the 10 nights. With tax and another small utilities fee, we paid (and saved) $126 for the 10 nights. In this one use, we've recovered the cost of the membership for the entire year. Besides the Escapee's RV club, we don't belong to any other camping discount clubs (yet).
12/16: Before leaving San Diego, we waited for hours in the evening for their Christmas Boat Parade of Lights. Little did we know that it would take the boats a couple hours to make it down to where we were waiting. They finally arrived and it was a pretty sight, but not as spectacular as we had hoped. After leaving the San Diego area, we stopped just West of Yuma, AZ for a few nights. We boondocked on BLM land in the desert. It was nice being back in bright sunny and warm days, with beautiful sunsets. We parked near Kathe and Colleen, who just returned from a 10 month trip taking their 40' motorhome to Panama. They did this just 6 months after starting to full time! Talk about an adventure!<
Today, we're moving to Casa Grande, AZ to see Grandma Cappie, then we'll stay in Apache Junction, AZ for the next week to spend the holiday with our daughters.
12/12: The weather stayed cold and rainy for a couple days, so we mainly stayed in and played games, along with a little shopping. We're sunshine people and sure didn't feel like hiking and looking around tide pools in cold, wet weather. The weather finally warmed up and we moved a bit further into San Diego and am staying at "Fiddler's Cove", which is another Navy family campground. It's a nice location near Coronado, directly on the bay looking out over sail boats with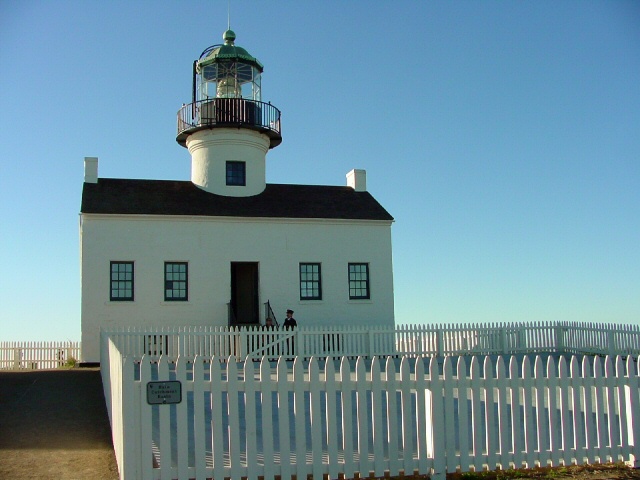 Navy air craft carriers on the other side of the bay. It's mostly been beautiful days in the low 80's. We visited the Cabrillo National Monument a couple days ago and spent half the day there. We enjoyed exploring the tide pools during low-tide, learned about the history of Coronado's exploration of the California coast, explored WWII defenses in the hills, and toured the Pt. Loma lighthouse. The views of San Diego are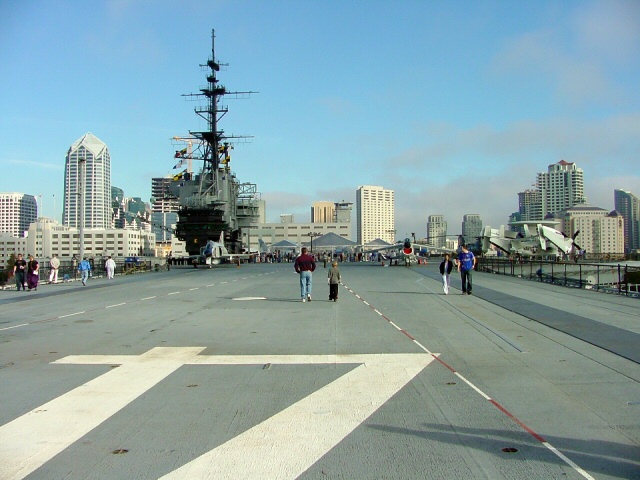 spectacular up here. Yesterday, we toured the USS Midway, the longest serving aircraft carrier in the U.S. Navy. From 1945 - 1992, this aircraft carrier had a very accomplished history. It was decommissioned after the liberation of Kuwait. It's now open for very informative public tours, with numerous displays.
12/7: We didn't drive far after leaving March ARB. We made it all the way to Temecula (39 miles), where we stayed at the Pachanga Casino RV park. It was still cold and rainy, so we wanted electricity. With electric, we can use our heated sheets at night. We were nice and toasty, at least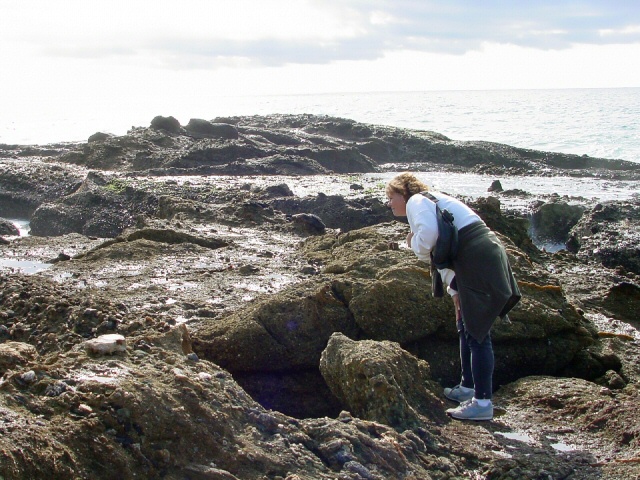 until we had to get out of bed. We then headed for Camp Pendleton Marine Corp Base Del Mar recreation area, where we're currently at. Another long drive of 33 miles. We'll stay here for a few days while we explore a few of the local tide pools. The weather finally cleared up and is sunny, in the low 60's.
If I wasn't retired of the U.S. military, I doubt we'd be able to enjoy this new lifestyle. The small pension and low cost medical care and prescriptions make life more affordable for us. However, as you've read, we also are enjoying the use of various military campgrounds (called FamCamps). We've also come to appreciate grocery shopping on the base again. Military famcamps are just like a normal RV park, just not open to the public. Prices are usually a little more affordable than a public RV park. Our current spot is right on the Pacific ocean, North of San Diego. We could have been parked on the beach, but we chose to stay on pavement due to the recent rains. When we've stayed at military campgrounds, we've always stayed on Air Force bases. We're use to watching and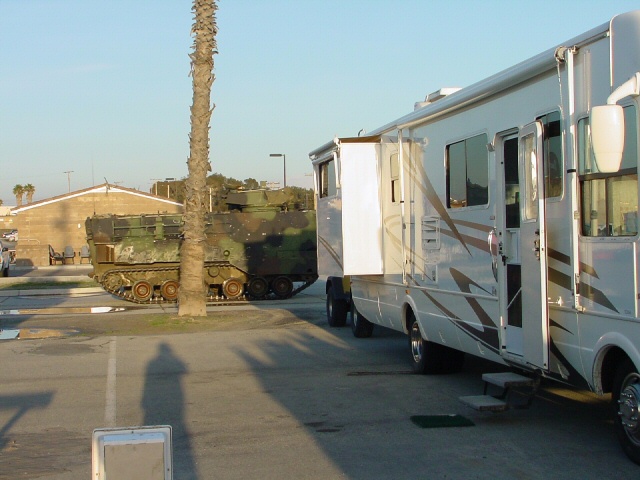 listening to jets taking off and landing, but staying on a Marine Corp base is a different experience for us. The Marines were up early, jogging in formation. All day long, every where we looked, we see Marines running. There were helicopters overhead all day long, and a Navy ship hanging out near the shore. The difference that struck us the most was a dozen armored personnel carriers driving by in the morning directly behind us. They returned from training later in the day.
12/4: We've liberated our home from captivity and have unpacked, loaded up on groceries and are back to normal. I think we've gotten over the jet lag also. We're both healthy again, and life is good. We spent the night dry camped at March Air Reserve Base in California. Since it's been pretty cold lately, Connie decided to stay in bed and watch a movie (Sleepless in Seattle). This is VERY rare for her! After returning from Australia, we stayed with Connie's parents in Torrance, CA for a few days. Connie spent Wednesday with her Mom and really enjoyed the quality time. This gave me the time to catch the web site up with our November adventures. We've decided to head towards Cabrillo National Monument near San Diego. Then we'll slowly head back to the Phoenix area to spend Christmas with Larry's dad and our daughters.