02/19/08: Davis-Monthan AFB, AZ: While staying at Schnepf Farms in Queen Creek, a remote control glider plane club came in for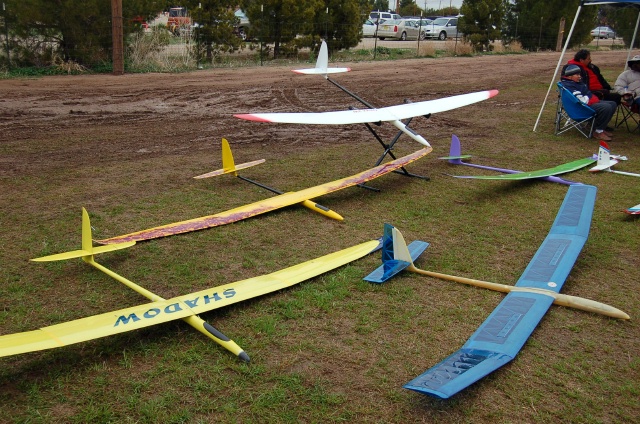 the weekend. They filled the campground and hundreds of participants and guests came in for the weekend. It appeared to be a large competition. I believe the goal was to launch their gliders (no engines) and keep them flying for the longest time then land in a targeted area. At one point, they had to keep the planes flying for more than 10 minutes. This is mainly based on skill in finding a thermal (hot air rising) to keep the planes flying. These were LARGE model planes with up to 10' wing spans. We had a front row view from the windshield of our motor home. It was also interesting to see how they launched the gliders. A winch type setup quickly pulled the planes into the air then they released them. This was some unexpected entertainment.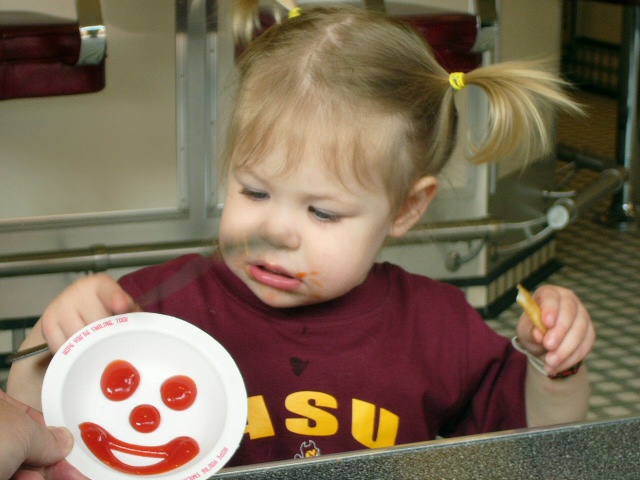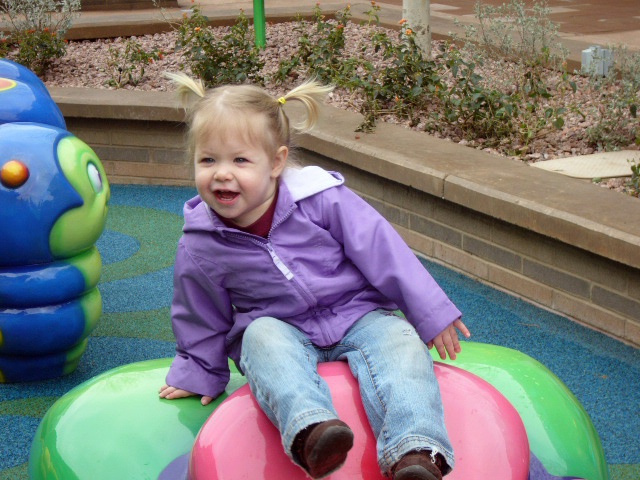 Unfortunately, the last few days of our visit was rainy, which created a foot deep mud pile everywhere. This over-priced campground turned into a large mud hole. With the plane people all over the place and the mud, there wasn't going to be an easy way for us to get out of our campsite. So we decided to stay another day and let the crowds depart. We headed to the military campground at Davis-Monthan AFB. Members of the US Military Campground and RV Parks recently voted this military RV Park the "Best" in the USA for 2007. We went there to present them with a plaque and congratulate them. It's busy here and we had to go into the overflow, dry-camping area. It'll take about 5 days to rotate into a FHU site, but we probably won't stay that long.
02/14/08: Queen Creek, AZ: Happy Valentines Day! We survived our short cruise to Mexico without getting sick! Although we felt the motion, we kept our stomachs calm. That's better than others on the ship. We enjoyed our little mini-vacation, but going on a cruise wasn't as much fun as we had hoped (heard). We did have fun and am glad we went. We attended an art auction, ate, enjoyed the towel animals, ate, attended a musical show, ate, attended a hypnotist show, ate, attended a comedy show, ate, played some games, ate, relaxed on deck, ate, enjoyed the hot tub, ate, watched a movie, ate, attended a class on making towel animals, ate, and did a few other fun things between meals. When the ship arrived in Cabo San Lucas, we stayed onboard and had the ship almost to ourselves. We've been to Cabo many times and avoided the crowds.
Okay, with everyone telling us a cruise is a great deal of fun, here's our (my) complaints where it didn't meet my expectations. 1) While there was plenty of food and it was good, the food wasn't great. I was looking forward to better tasting meals. They served a wide variety, but much of the food was bland and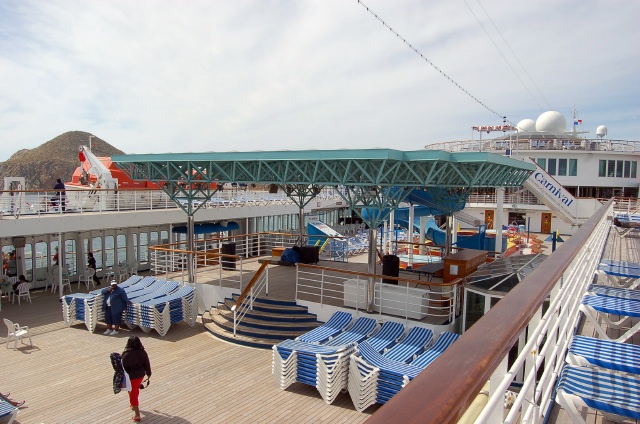 cold. 2) I didn't expect to be "sold" the entire cruise. They kept pushing their cruise video, soft drinks cost $2 each, booze was $6 - $8 (I expected this), and the photos! Photographers were EVERYWHERE taking photos of guests. Nightly, over a dozen backdrops were setup to have your photo taken in front of. While eating in the formal dining room, they would insist on taking your photo nightly. Of course, you didn't have to purchase these photos, but it was annoying (to me) for them to keep pushing photos. 3) Not much to do during the day. The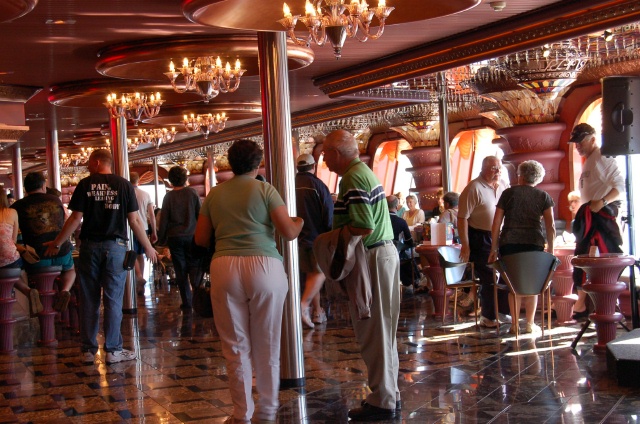 pools and hot-tubs were crowded, as were the lounge chairs protected from the wind. In other words, it was difficult to stay outdoors. They had a few things scheduled during the day, but playing trivia isn't my thing. The casino was open, but I can't afford to bet. Bingo was played once and awhile, but a single Bingo card was $10! 4) Our formal dinner seating was at 8:00pm. This is a bit late for us to start dinner. We usually didn't finish dinner until around 9:30pm. 5) The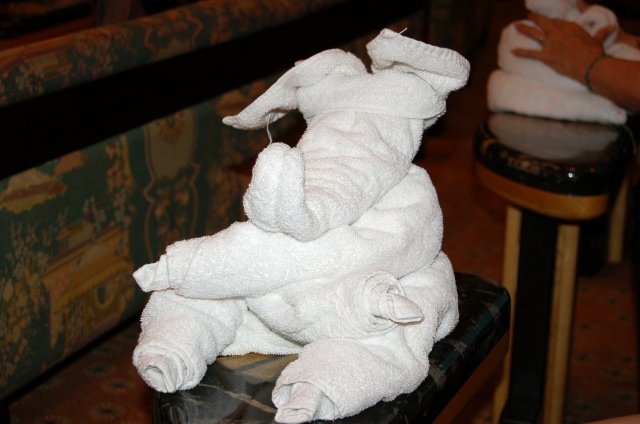 shows were also late at night. Most shows started at 10:30pm, with comedy and hypnotist at midnight. The last couple nights, they did have a musical start at 7:00pm. Dancing, Karokoe, etc didn't start until after 10:00pm. Guess I'm just not a night owl. 6) The musical shows were "okay", but not the Las Vegas quality shows I expected. 7) Charging for sodas didn't make sense. A can of "Coke" was $2 each, or unlimited sodas for $5.50 a day. But we could have 2 or more lobster tails for dinner at no additional charge. ??? 8) I got tired of the ship's decor. I felt like we were stuck in a never ending casino. Too "flashy" with too many colored lighting.
I was impressed with the service. Our "stateroom" was also larger than we expected. We got lucky and were given a free upgrade with portal windows. All said, we did have fun and it was a good experience. We had to try a cruise to see for ourselves and have decided we'll fly or stay on land. But Connie is getting better at making towel animals.
02/3/08: Quartzsite, AZ: We moved today - 3 miles away from our desert boondocking location. We're still dry-camping, but in a paid lot in town. We're leaving tomorrow for a 4 day cruise to Cabo San Lucas, MX. We didn't need to drive the motor home to San Diego, so we decided to leave it here in Quartzsite. This paid dry-camping lot is a safer location to leave the RV than out in the desert. $5 a day for storage isn't too bad. It's cheaper than the $7 a day we have to pay for parking of the Jeep in San Diego.
I made one last purchase in town before we leave the area. One of our roof top air conditioner covers has developed serious cracks. It's now making lots of noise while driving or sitting in the wind. I purchased a replacement cover for $120. After we return from the cruise, we're returning near our kids in Queen Creek, AZ for about a week. I'll install the cover then, as well as fix my broken Jeep shock mount. We've been trying to think where we want to head next. We've changed our minds about a dozen times. We still have over a couple months before we need to report for summer work. We've been talking about doing some remodeling of our living area in the motor home and thought we could start that project now. This was a factor in why we kept changing our minds. We've finally decided (as of today) to replace our couch with a reclining love seat. We'll try to get that changed over next week while in Queen Creek. We're also going to order a couple custom designed cabinets while there. One cabinet will be a combination end table and computer desk. The other cabinet is going to be a wine storage/TV stand. We figure we'll design and order them now and pick them up later. However, we need the Love Seat installed first, so we need the measurements for the end table. Once these have been ordered, we're going to travel into Texas again. Perhaps make a couple stops in New Mexico, visit military campgrounds around San Antonio, and visit our legal address in Livingston, Texas (Escapees RV Club HQ).
We'll pickup the cabinets our return trip in March/April and head to the Sierra National Forest in California. During our summer workamping, we'll continue to remodel the living area. We plan to replace the front carpet with a linoleum, remove the lounge chair and fold out computer desk, and have the drivers and passenger seats re-upholstered. We'll also buy a LCD television which will sit across from the Love Seat. I'll probably start a new page just for this remodeling project, with photos of our progress. I hope it turns out as functional as we hope it will.